Source: The Intelligencer - Wheeling News Register
Congratulations to Ethan Parsons for becoming the 2020 Moss Award recipient. He became well known for out-jumping and catching football receptions by training with VertiMax.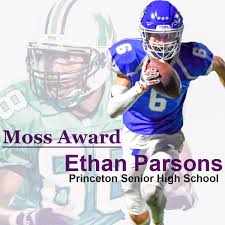 For his conspicuous achievements that helped to bring Princeton back into the mainstream of West Virginia Class AAA football, Parsons has been named the 2020 Moss Award winner. According to the West Virginia Sports Writers Association, he has achieved that goal with room to spare.
Princeton Senior High School's Ethan Parsons has been playing varsity football for head coach Chris Pedigo for years. After Pedigo completely reconfigured the Tigers offense from a triple option rushing package to the passing-oriented spread, it became evident that Parsons could expect to spend a lot of time at wide receiver.
As he settled into what became his permanent offensive assignment, Parsons had a specific goal in mind. He leaned into it.
"I was working really hard to become one of the best receivers in the state," Parson's said.
Not only is Parsons accomplished in football, but he is also a basketball standout who can play above the rim. He began dunking the ball in the eighth grade. Since then he's spent a lot of time on the VertiMax training machine enhancing his jumping abilities.
"There's nobody that's really going to out-jump that kid. He's made some tremendous catches simply because he can go up and high-point the ball better than anyone I've ever seen. He made a one-handed catch against Bluefield in the second game we played. The cornerback had really, really good coverage on him and Ethan went up and made a really good catch," Pedigo said.
Parsons also has physicality to accompany his finesse.
"In the South Charleston game [on defense] … he comes up and just lays a young man out from South Charleston who's trying to catch a quick screen. That's a thing that a lot of people don't know about Ethan. He'll hit you. He really became a physical, physical football player this year. He really did great in run blocking and blocking on the perimeter for our screens. He became a complete player," Pedigo said.
Over his four seasons at Princeton, Parsons gathered in 144 catches for 2,290 yards and 28 touchdowns. He has a career average of 15.9 yards per catch. While helping to lead the Tigers to a 6-3 overall finish amidst the chaos of the COVID-19 pandemic, he had 48 receptions for 862 yards and 12 touchdowns.
On the defensive side Parsons had four interceptions in 2020, two of which were returned for touchdowns. He had no touchdown receptions scored against his coverage for the duration of the season.
Most of the teams recruiting Parsons are primarily interested in him as a wide receiver, but his reputation as a two-way standout is also a plus.
"I'm an offensive guy but defense … it's fun. I like to hit people a lot," said Parsons, who said he'll do whatever is asked of him at the next level.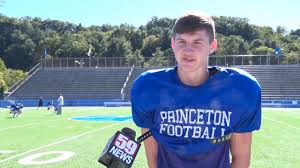 About the Moss Award
Named after Dupont High School, Marshall University and four-time NFL All-Pro wide receiver Randy Moss, the award is presented annually to the best high school wide receiver in West Virginia as voted upon by the WVSWA membership.
Parsons will be honored at the 74th Victory Awards Dinner which will be May 23 at the Embassy Suites in Charleston.
Read the full article here Princeton's Parsons Wins Moss Award
---
Check out more VertiMax testimonials and the science behind VertiMax
---