Source: The Daily Hoosier - July 17, 2020
In the first AAU game of the summer, the Cathedral High School basketball recruit, Tayshawn Comer, showed how much he has been working all summer to improve basketball shooting by training hard and using VertiMax.
"I've been going three to four times a day," Comer told The Daily Hoosier. "In the morning I work on my body, and then after that I do Vertimax, and then basketball, just shooting, and then I workout with my brother and we do pick-and-roll and work on my all-around game."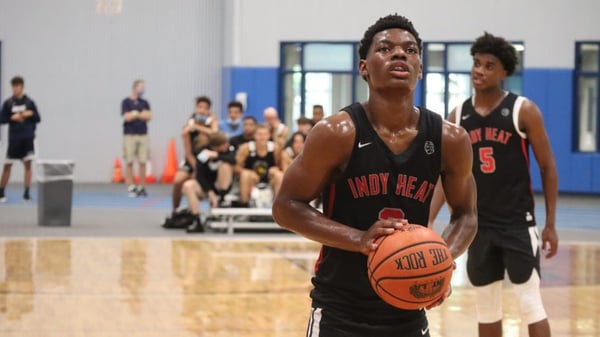 The Cathedral High School product got to work to increase vertical jump, and transformed his body to get game-ready.
Comer has grown too. Now just over 6-foot-1 and 180 pounds, Comer is starting to look like a Big Ten guard, and his high major interest includes schools from that league.
Comer already holds offers from Ball State, Miami (Ohio) and IUPUI, and that is a list that is sure to grow as he is just now starting to be seen on the AAU circuit. Northwestern, Illinois, Butler and Kansas State are all showing serious interest right now. Purdue has been involved too.
Originally slated to play with the Chicago based Meanstreets Nike EYBL program, Comer's summer was delayed as the Illinois based club grappled with more stringent COVID-19 restrictions.
Comer was able to find a home with the Indy Heat last weekend in his first AAU game after the summer layoff, and he developed an immediate chemistry with some familiar faces including fellow Indianapolis area products and IU recruiting targets C.J. Gunn and D'Ante Davis.
"I feel good," Comer said. "This team is very talented and has a lot of D-1 guys. I feel like I fit right in, come in and facilitate for my teammates, they knock down shots and we all play together."
The weekend included Comer's first dunk in a game as he threw one down off one foot over a defender on a fast break. Comer also led the Indy Heat with 18 points.
The impressive opening weekend isn't particularly surprising. Comer was a star for Cathedral during the 2019-20 season, averaging 15.4 points, 5 assists, 3.7 rebounds, and 1.7 steals per game to lead his team to an 18-6 mark against one of the toughest schedules in the state. Comer shot 35 percent from three-point range on 65 attempts.
Strong AAU performances can help with recruitment and the coaches Comer has been talking to have told him what they want to see.
"They want to see me making the right pass instead of taking the extra dribble," Comer said. "Finding my teammates more. I've been really focusing on that, watching film and getting that under control."
There is no doubt that the delayed start to Comer's AAU season slowed down his recruitment. But that was temporary, and Comer still has two more years of high school.
Comer is interested in Indiana, but there will probably be just one opening for recruits at IU, If his development during a difficult off-season is any indication, The Daily Hoosier has no doubt what Comer's college options will be.
Full article: IU basketball recruiting: In-state 2022 point guard Tayshawn Comer flying under the radar for now
Check out How VertiMax can Improve your Basketball Shooting and Skills