Source: Longwood University Lancers - July 17, 2020
Alex Dinger is one of 9 new soccer players added to the Longwood University soccer team with significant experience using VertiMax and leading VertiMax SAQ training programs.
NASM states "Speed, agility and quickness (SAQ) training is similar to reactive training and follows the same concepts of the integrated performance paradigm. SAQ training allows a client to enhance his/her ability to accelerate, decelerate and dynamically stabilize the entire body during higher velocity, acceleration and deceleration movements, in all planes of motion."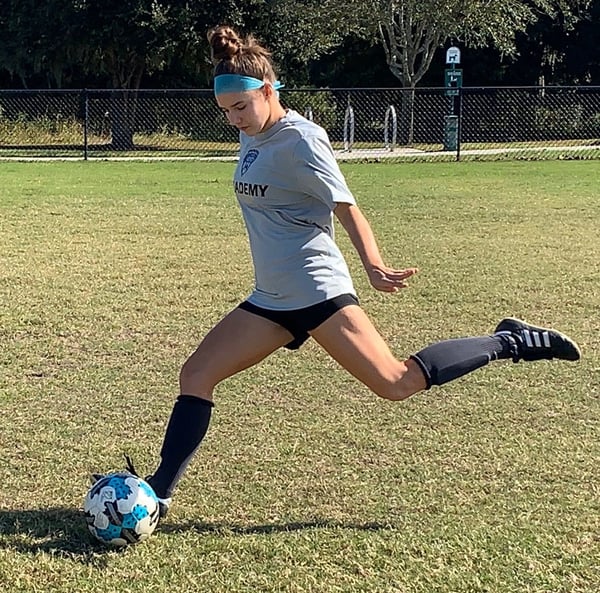 Alex Dinger is a 5-4 midfielder out of Fredericksburg, Va., where she was homeschooled and played for the Commonwealth Futbol Club, Arlington Soccer Association and FC Prime in the ECNL. She has also competed in the Olympic Development Program at the district and state level.
Dinger plans to major in kinesiology and become a soccer coach. She already has a head start on the coaching career as a volunteer assistant with numerous programs, including Rare Soccer Academy and Commonwealth FC. She has also volunteered her time with the Commonwealth FC Vertimax Program as a Lead Vertimax SAQ trainer, a CFC Vertimax, and is the recipient of the ECNL Coaching Education Scholarship.
Along with her soccer prowess, Dinger has also competed in futsal, a five-per-side version of soccer played on a hard court. She was part of a Mid-Atlantic Regional championship team in futsal and also played 3-v-3 soccer where she was one-third of a regional finalist squad.
Dinger is one of 9 new freshman with the Longwood University soccer team. The Longwood University women's soccer team is one of the "winningest" schools in the Big South conference since 2012.
Longwood women's soccer head coach Todd Dyer said "Dinger is a soccer nut who not only loves the game, she truly lives it," Dyer said. "She is a creative attacking player that is strong on the ball, covers tons of ground and is constantly working to find threatening spaces and opportunities."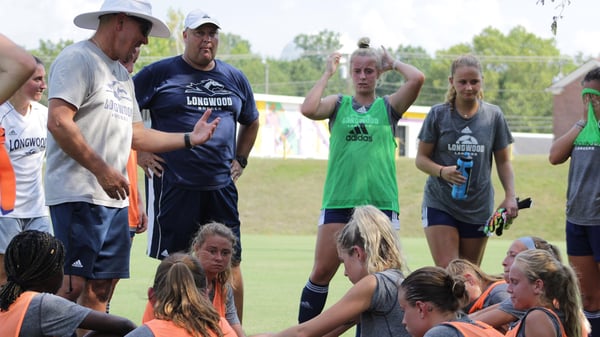 Todd Dyer and associate head coach Rich Stoneman announce the nine incoming freshmen to include midfielder and defender Amanda Arnone (Midlothian, Va./James River), midfielder and defender Alex Dinger (Fredericksburg, Va./Homeschool), defender Camille Jernigan (Raleigh, N.C./Wakefield), forward Katelyn Laux (Fuquay-Varina, N.C./Fuquay-Varina), midfielder and defender Alayna Palamar (Smithsburg, Md./Williamsport), defender Mikayla Schuetz (Bristow, Va./Patriot), defender Grace Shook (Virginia Beach, Va./Kellam), midfielder and defender Kaley Unger (Moseley, Va./Cosby) and midfielder Isabella Unrath (Stephens City, Va./Sherando).
"In a nutshell, this group has a little bit of everything and covers positions in all three thirds of the field," said Dyer, the 2017 Big South Coach of the Year. "It's a versatile group as well, so if they don't settle into their primary positions they still may find time and opportunities in other areas. It's always a matter of how fast a freshman group can transition into the pace and physical demands of soccer at this level, and I know this group is eager to prove what they can do."
See full article: Recruiting Pipeline Yields Nine Newcomers for Woman's Soccer
See our blog post 8 Best Agility Training Exercises to learn more about how VertiMax is one of the best soccer training equipment for SAQ training. Agility training will help improve speed, explosive power, coordination, and basic soccer skills. From high school to professional sports teams, all athletes can benefit from VertiMax agility training exercises.