Sources: Syracuse.com and The Times
Running back Josh Hough shocked even himself with the stat line he compiled in the game against Ellwood City earlier this year. "I didn't even know that (line) could happen, for real," Hough said. "I was shocked, too." Hough said he primarily used VertiMax Training during the summer, in which he wore resistance bands around his waist and ankles to make him faster and more explosive.
"Once Josh gets ahead of steam, good luck trying to tackle him," Beaver Falls Coach, Nick Nardone said.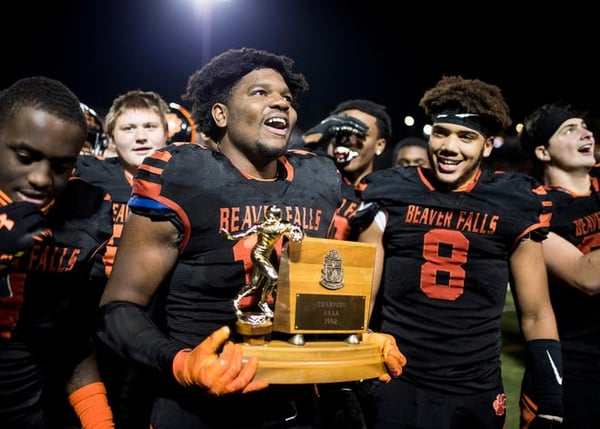 The proof is in the number of long runs he broke this season – Hough had two touchdowns of 90-plus yards, six touchdowns of 80-plus yards, and 11 touchdowns of 70 plus yards. He attributed some of that to the work he did over the summer, including VertIMax sessions with Ameer Dudley, Sr., the father of Central Valley quarterback Ameer Dudley.
As the season wore on, Hough felt fresh, despite playing both sides of the ball. As a defensive end, Hough had 68 tackles and a team-high eight sacks. But thanks to the summer VertiMax training and the fact that Beaver Falls was routinely routing opponents, his legs and lungs felt strong. He also felt better about his team's mentality as the playoffs approached.
"We didn't slow down," Hough said.
Many of Hough's carries were pitches in which he could capitalize on sprinting towards the outside with his multiple blockers in front of him. Nardone said tossing the ball to Hough was more effective than handing it directly to him, because his speed and size allows him to get the edge on breaking tackle
."Everything that's coming to him right now is deserved," Nardone said. "When you put in the hard work and you put in the effort, you get what you deserve. He's put the time in and it's all coming full circle right now."
Hough, who gave a verbal commitment to play football at Syracuse earlier this year, tallied 243 rushing yards, three touchdowns on just four carries in Beaver Falls' 54-26 win over Ellwood City in Western Pennsylvania. That's an average of 60.8 yards per carry.
It's a line that's garnered a lot of attention, including a national honor from Sports Illustrated: Hough was named the SI All-American "Freak of the Week."
Based on scouting, coach Nick Nardone said he knew his team would be successful against Ellwood City on the ground, so he chose to work on passing the ball. The Tigers passed the ball 15 times in the first half, which Nardone says is "unheard of" for his team.
Hough's three touchdowns against Ellwood City were rushing scores of 72, 82 and 82 yards. The 6-foot-2, 230-pound back said he used the coronavirus shutdown to improve his agility, footwork and first-step burst in hopes that those key details would make him a more formidable back for the Orange.
After the game, the team's statistician revealed another mind-blowing stat: The dynamic senior running back duo of Hough and Shileak Livingston, along with senior fullback Tyler Jones, combined for almost 480 rushing yards, eight touchdowns on 11 carries, and were tackled only one time each, Nardone said.
---
Syracuse.com Article: Syracuse Football Recruit Josh Hough Puts Up Ridiculous Rushing Stat Line
The Times Article: The Times' 2020 Football Player of the Year - Josh Hough
---