Source: Muscle & Fitness
To stay game-ready during the pandemic, NBA Star Jimmy Butler, incorporated VertiMax equipment and other exercises into his basketball training regimen to increase vertical jump and explosive strength.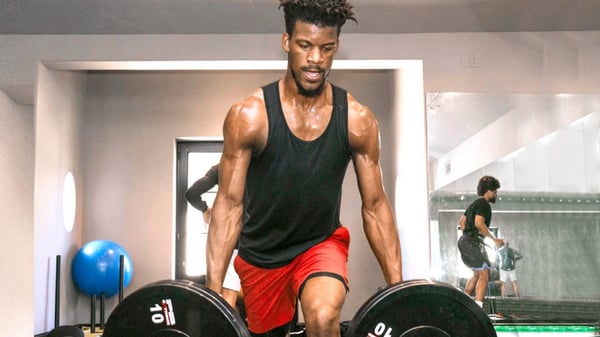 With the NBA season postponed due to the pandemic in March, 2020, Jimmy Butler had to face reality. With all the uncertainty of the lockdown, how to stay game-ready was the biggest decision Butler and his personal trainer, James Scott, needed to make.
"Just from a whole mental, um, kind of readiness, we didn't know if this was going to be two weeks or two months or a year," Scott told Muscle & Fitness. "At the beginning, training was sort of ambiguous. We saw people were doing Zoom workouts and stuff like that. Finally, we just said, you know, screw that, let's go ahead and do this the right way. Let's have an off season mentality."
In any given workout, Scott will have Butler perform dumbbell presses and rear-elevated split squats to increase strength, also adding in trap-bar and VertiMax machine jumps to increase explosive strength.
VertiMax patented technology allows resistance to remain consistent as the bands are stretched. The system is designed to maximize athletic potential by focusing on three key components: speed, explosive power, and vertical jump. VertiMax is the most effective Vertical Jump Training System in the world because it allows an athlete to maximize both explosive leg power and arm swing velocity to maximize the vertical lift component which leads to superior vertical jump performance gains. Athletes jump higher and farther when they train with VertiMax Athletic Performance Equipment
"We really focus on the speed-strength side of his fitness," Scott says, advising that the medicine ball weight doesn't need to be heavy. "We're trying to move as quick as you can…This is what separates elite athletes. They don't necessarily produce more force than non-elite athletes. They can just produce that force at a quicker rate."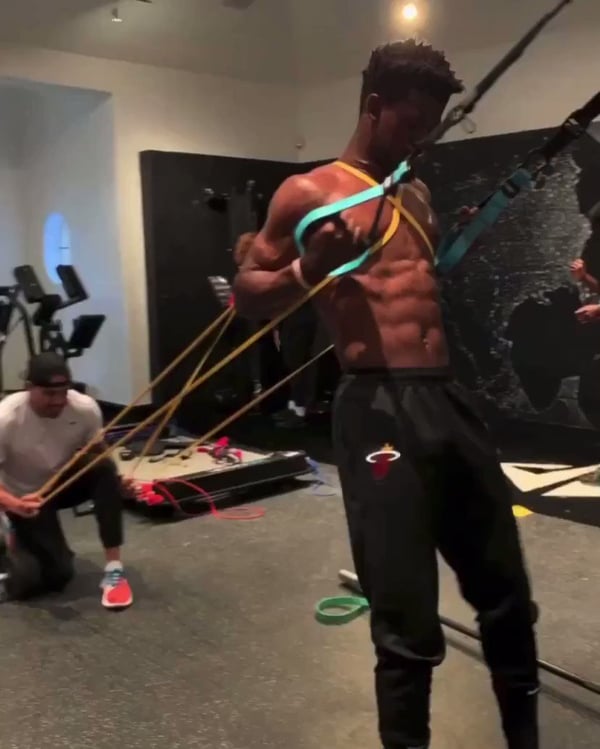 So effective was their plan, that Butler took the court on Aug. 1 against the Denver Nuggets with more muscle and less body fat than his last game in March.
"Concentration can be a split-second decision for an athlete like Jimmy," Scott says. "It could be the difference between winning and missing an assignment and giving up the winning basket."
The physical and mental push Butler receives from Scott, has helped keep him focused and ready to continue his All-Star season.
Full article here How Jimmy Butler Stayed in Shape During the Pandemic
---
Also, check out VertiMax testimonials and the science. behind VertiMax
---
Click below to learn how to jump higher and increase explosiveness using VertiMax sports performance and athletic training equipment.