Why do Customers Love VertiMax Platforms and Raptors?
Vertimax V8 Platforms and Raptors are the leading athletic performance training equipment tools in the world! Vertimax Platforms and Raptors are set apart. Our equipment is specifically designed to maximize athletic potential by focusing on three key components: speed, explosive power, and vertical jump. Check out our Google Reviews below!
Versatility is a huge reason why so many athletes and fitness enthusiasts around the world love VertiMax Platforms and Raptors.
VertiMax Training Equipment provides advanced resistance technology that allows athletes of all ages to train in the horizontal plane with loads on specific areas of the body that result in extraordinary athletic performance improvements. The top world class olympians, professionals, and college, high school, and youth sports athletes rely on VertiMax technology to enhance their performance on the field of play. Fitness and sports training enthusiasts around the world use our training solutions at home, and in gyms and fitness centers as well. VertiMax can be used in the off-season training as well as in-season training to prepare for game time.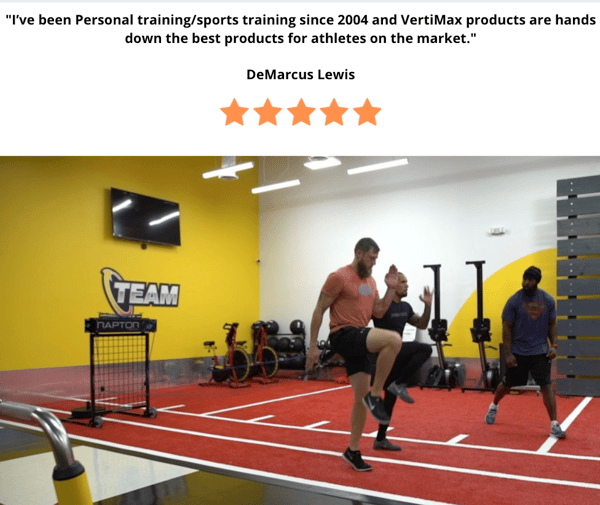 VertiMax has changed sports performance training by revolutionizing the way athletes use resistance bands. The VertiMax patented technology allows resistance to remain consistent as the bands are stretched up to 45 yards, depending on the type of Platform or Raptor. This means athletes can complete more consecutive uninterrupted reps for any given mobility drill. One of the significant challenges when sports performance training with traditional bands is that the resistance dramatically increases as the bands are stretched; the more you stretch them the greater the resistance increases. An athlete loaded with a traditional band will only be able to train so far until their form breaks down. When form breaks down the athlete is wasting energy, prone to injury, and develops bad habits that can diminish athletic performance. VertiMax technologies avoid this problem.
VertiMax has worked hard over the years to build a reputation of high quality and personable customer service while designing, manufacturing and delivering revolutionary speed, explosive power, first step quickness, agility, and vertical jump training equipment for athletes, coaches, and trainers around the world. We are proud of the relationships we have with our international distributors who are just as passionate as we are about our mission! We love our community. We receive text messages, emails, calls and reviews from customers sharing their VertiMax training success stories.
Interesting news articles on athletes: