Source: ESPN, June 14, 2020
Jet's Quinnen Williams has been training in the off-season with Kevin Brown using VertiMax performance training equipment in defensive tackle drills.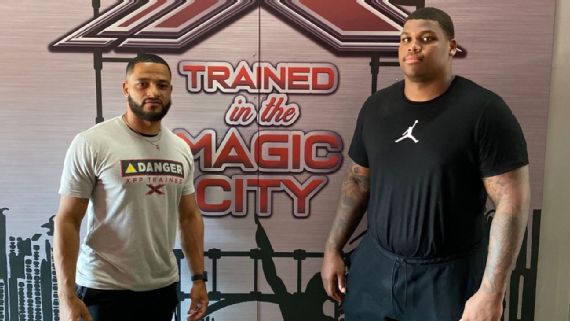 Williams has spent the Jet's off season at home in Birmingham, Alabama, where he trains at Xtreme Fitness and Performance with Brown. Williams has been going to Brown since the 11th grade. Brown trains about a dozen players. Williams has been working to build quickness by working on VertiMax to improve agility, increase jumping ability and create more explosiveness.
Williams (6-foot-3, 303 pounds) was already known for his athleticism, but his first season was not up to expectations. This is a huge season for Williams, the highest-drafted defensive player in Jets history. That is also why Williams is working to improve his strength and movement skills to perform up to expectations this season. Good nutrition also is a staple of the training program.. Williams used a personal chef during the season and also hired one for the off-season.
"He wants to show people, 'I was the third overall pick for a reason,'" Williams' personal trainer, Kevin Brown, said in a phone interview. "That's his fire this off-season. Truly, he's all-in. I'm like, 'We need a Pro Bowl this year.' The mental space he's in now is totally on another level. This year, you guys will see a big difference in Quinnen Williams."
ESPN stated "The Jets hope so because his rookie season was underwhelming, magnifying the importance of his first full off-season program, which failed to come to full fruition. Team facilities were shut down by the coronavirus pandemic, a potentially huge setback for a young player who is still learning how to prepare his body and mind for the rigors of a NFL season."
Williams was so hyped coming out of Alabama that people looked past his relative lack of experience. Basically, he was a full-time player for one season. He dominated college offensive linemen, but he quickly discovered in the NFL that it takes more than talent. VertiMax is helping him get "game-ready" with the right defensive tackle drills.
See the full article In Year 2, Quinnen Williams Hopes to be Cookie-Less Monster for Jets
---
Also, check out VertiMax testimonials and the science. behind VertiMax
---
Click below to learn more about the special technology and capabilities of VertiMax sports performance and athletic training equipment.