The VertiMax Raptor training system allows athletes and fitness enthusiasts to Get Raptor Fit by training in the horizontal plane over short, medium, and long distances. With an extra-long band and a patented pulley system, the smooth resistance remains consistent, without any rapid increases. This means clients can cover long distances in any direction and also at any speed!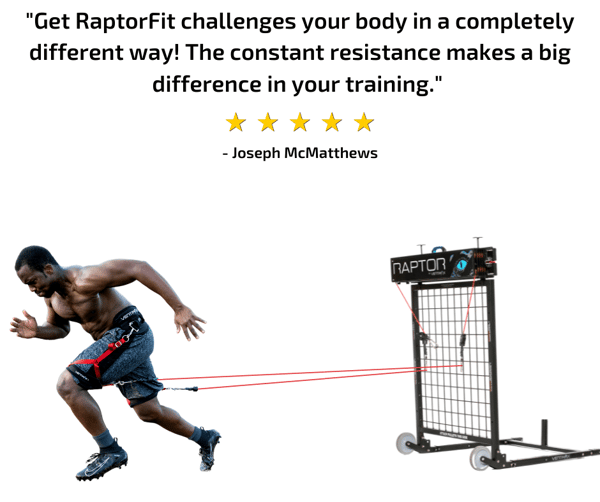 Using VertiMax patented technologies and programming via the VertiMax mobile app, health clubs, gyms, YMCA's, and fitness studios can deploy great fitness programming so clients and members can train just like athletes.
VertiMax Raptors enable clients to experience unique training programs that can improve speed, strength, and power, while also working on functional movement, mobility, stability and caloric burn. The best part about using the VertiMax band technology and eliminating inertia, is the ability to apply maximum effort without having to use maximum loads. The results are extraordinary.
VertiMax Raptor is a portable resistance training system which can be used inside or outside, and can be mounted in many ways outside on the field or inside a gym. Weighing only 14 pounds, the mobile VertiMax Raptor is great for personal training, small group training, and sports performance training. Both Raptor and Raptor EX models are lightweight and designed to be portable with multiple attachment options. You can attach the units to chain link fences, walls, racks and portable support systems.
Features and Benefits of Raptor Training
Quickly Develop Speed and Power - Light-load, high-speed training that produces results in the gym or on the field of play.
Consistent Resistance - Resistance training without radical resistance as compared to traditional bands.
Training Range - The dual band Raptor trains up to 20 yards (with each band) and the Raptor EX (single band) trains up to 40 yards.
Assistance Training - Raptor technology provides assistance training, over speed training, and deceleration training to increase maximum running speed.
Adjustable Resistance - The bands come in 4 different training levels to provide from 2 - 24 pounds of adjustable training resistance.
Change of Direction and Easy Transition with the 360 Belt - Allows the client to train in any direction and change direction while loaded with resistance.
Lightweight and Portable - The unit weighs about 17 pounds, 36 inches long, has a carrying handle and is very portable.
Easy Mounting Options Inside or Outside - Mounts to Fences, Walls, Racks and Portable Mounting Device.
Train 2 Clients at a Time - The Dual Band Raptor includes two bands that extend up to 20 yards and allows two clients to train simultaneously.
Clients of All Ages & Capabilities Can Use the VertiMax Raptor - Any age or capability can use the VertiMax Raptor as long as they have body control.
What Is The Difference Between The VertiMax Raptor And Raptor EX?
The Raptor has two 43 foot bands inside the unit, while the Raptor EX has a single 86 foot band inside the unit. Since the Dual Raptor has two bands, you can load an athlete at two independent locations on their body or train two athletes simultaneously by attaching one band to each person. The Raptor EX band (86 ft.) is twice as long as the Raptor's bands (43 ft.). The increased training range makes the Raptor EX a more efficient choice for athletes such as sprinters, who are often interested in improving top end speed and need to run farther with a load to achieve higher resisted training velocities. If you want to load an athlete during open field drills, typically a Raptor EX is a better choice due to the extended loading range it offers. However, it is important to note that the Raptor EX having only one band can only train a single athlete at a time vs the Raptor which can provide multi-point loading or the ability to train two athletes at a time.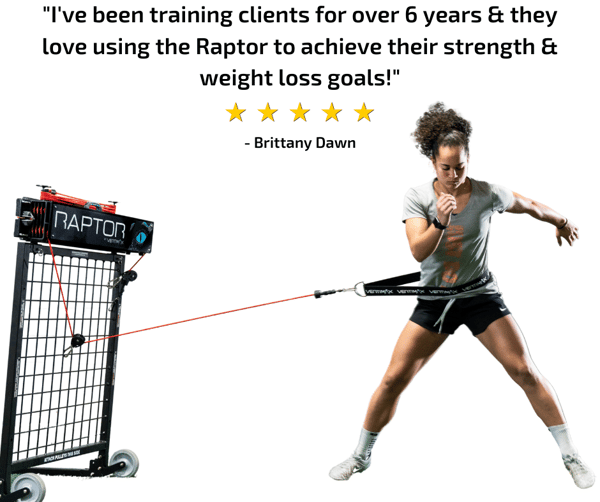 Fitness Training with the VertiMax Raptor - Personal Training, Group Training & Bootcamp Fitness Classes
Get RaptorFit using the VertiMax Raptor offers personal and group fitness training solutions by providing programming, app advantages and business development, education and support to help you utilize the equipment to best service your clients and business. Learn how to optimize your functional fitness training space with the VertiMax Raptor.
The VertiMax Certification Course and Digital Workshops grant CECs and CEUs to help certified trainers and fitness coaches apply for their certification renewals.
The in person training certification provides a full day of education, hands on experiences and learning from some of the best professionals in the Sports Performance and Fitness space. Earn a VertiMax Certified Trainer certification by attending and complete the one day course. An added benefit is networking with fellow trainers and fitness coaches that have the same enthusiasm to make a difference in their client's fitness levels.
NASM CEC's .70 | AFAA CEU's .70 | ACE CEC's .70
The goal of the digital workshop is to ensure attendees are fully equipped with the knowledge, skills, and abilities required to safely and effectively integrate VertiMax Platforms and/or Raptors into an solid training regimen for sports performance and general fitness athletes. The VertiMax digital workshop is an opportunity to receive a letter of completion and earn CECs.
NASM CEC's TBD | AFAA CEU's TBD | ACE CEC's .60

With the VertiMax Raptor and Get Raptor Fit programming, personal trainers and coaches have access to change up their training regimens by providing progressions and regressions to every functional training movement. Functional training and total body movements for every direction and plane of motion with resisted and assisted tension. While providing a versatile piece of equipment to train as a one on one component or small group training environment.
Checkout the FAQ's page

for answers

to:
What do I attach it to?
How heavy is it?
What accessories are included with the Raptors?
Can I use Raptors for jumping?
How many athletes can use Raptors at once?
If placed on the wall, is it permanent or can it be removed?
Can I achieve desired vertical results like on the platform?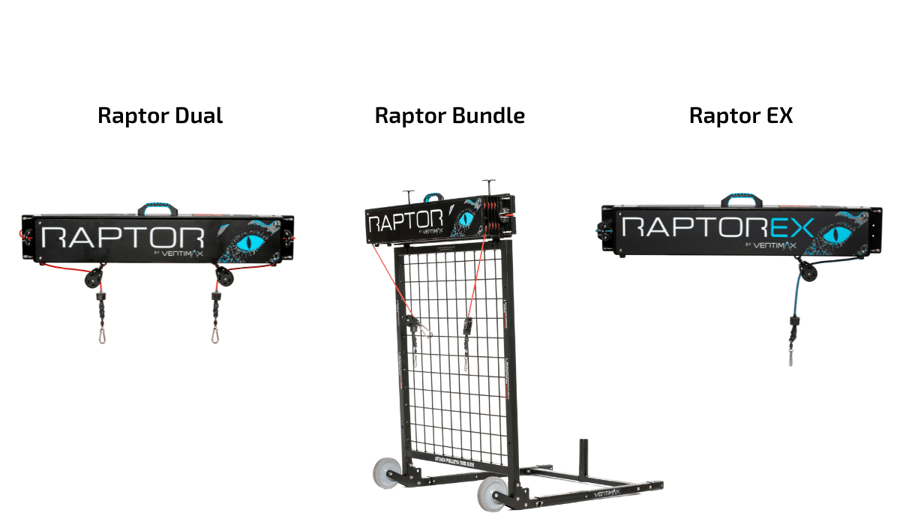 VertiMax Bundle this bundle includes one Raptor Dual OR one Raptor EX plus and our portable Raptor Mounting Device.
VertiMax Raptor Dual unit has two cords with a training range of 0-20 yards each.
VertiMax Raptor EX unit has all the capabilities of the VertiMax Raptor Dual but with the off-platform training of approximately 45 yards with one band only.