Source: MSN Sports: July 2, 2020
Even though Soccer Star, Sabrina Hillyer was the shortest player on the team, she used VertiMax three times a week to jump higher in soccer.
Listed at 5-foot-3, Sabrina Hillyer is a red shirt freshman defender and the shortest player on Arizona's soccer roster, but her height hasn't held her back.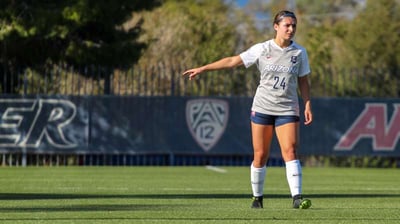 Hillyer, who also goes by "Beans", is the all-time leading scorer at St. John XXIII High School in Katy, Texas, where she netted 64 goals in four years. She was also a four-time all-district selection and two-time all-state, and ran the 100-meter dash, the 200-meter dash and the 300-meter hurdles.
At the club level, Hillyer played for Albion Hurricanes FC, where she starred along the back-line. Whether Hillyer plays there or in the midfield for the Wildcats in 2020, she has a chance to crack the rotation after red shirting in 2019.
"Beans is definitely somebody who does not give up on the ball and that's surprisingly hard to find in a player," said senior forward Jill Aguilera. "She's very tough on the ball. She might be, you know, on average shorter than everybody, but she doesn't let that affect her play. So I think that's definitely something that a lot of people will underestimate."
How did Hillyer use VertiMax to jump higher in soccer?
Hillyer used VertiMax training to increase vertical jump to be game ready for soccer. "I've never been the tall one on a team or out of my friend's group or anything," stated Hillyer. "I've always been the short one, and I've definitely learned to use that to my advantage. Yeah, some people might be like, 'Oh, she's short. She's not going to be able to do that or do this.' And I think that motivates me. The negativity makes me want to prove you wrong. I'm going to work hard to show you I can do this. Obviously, height is a factor for winning balls in the air and stuff, but all spring I was in the jumping group and we worked on jumping like three times a week on the VertiMax. So I'm hoping that kind of shows off and I'm gonna be able to jump just as high as someone else that's taller than me."
Check out the video on Twitter with Hillyer discussing VertiMax.
Listed at 5-foot-3, redshirt freshman defender Sabrina Hillyer is the shortest player on @ArizonaSoccer's roster. She uses that as motivation.

"The negativity makes me want to prove you wrong. I'm going to work hard to show you that I can do this." pic.twitter.com/pTjL8N8WBV

— Ryan Kelapire (@RKelapire) July 2, 2020
Search for the full article and a question-and-answer interview with Sabrina Hillyer in MSN - Sports - Get to Know Arizona Soccer's Returners: Sabrina Hillyer.
Check out this Infographic to Increase Vertical Jump