Source: DawgNation - Recruiting News - June 16, 2020
2021 wide receiver football recruit, Malcom Johnson Jr., has earned the nickname "The Jet" because of his exceptional speed which he attributes in part to VertiMax training. As of August 14, 2020, Johnson committed to Auburn University.
VertiMax Training is the "Special Sauce"
Johnson described using VertiMax sports performance training equipment as his "special sauce" that helped him become a highly ranked recruit for 2021. Currently the 4 star wide receiver(WR) ranks as the nation's No. 36 WR and No. 191 overall prospect (247Sports Composite).
"I've been working every day since I was 11 or 12 to get this fast," he told DawgNation. "I've been on VertiMax since I was about that age. My uncle, he has it. We used to push cars. Push vans. It was crazy." He couldn't even tell you how many hours he's been on the VertiMax. "I've seen that machine so many times in my life," Johnson said. "It is crazy."
Johnson is looking at narrowing his top colleges down to Georgia, Auburn, Alabama, Maryland and LSU. Johnson said what he is looking for in a school is "Definitely the ability to do track and football," he said. "That's pretty large. Education with their business programs that will be big as well. The development of speed as well. Not just someone of my speed. I feel that is really important as well because not a lot of people really know how to develop speed."
"I like Georgia," Malcolm Johnson Jr. said late last week. "I feel like we have a great relationship. He's a real genuine guy. You can kind of tell that. I've talked to his kids. His wife. That's really important and I've talked to coach Smart. I got off the phone with him like two days ago and we were just chopping it up." DawgNation said Johnson is one of the 10 fastest players that the Georgia staff has recruited in the time that Kirby Smart has been the head coach. Smart is just one of about three head coaches that Johnson speaks to on the regular. Auburn's Gus Malzhan and Maryland's Mike Locksley would be the other two.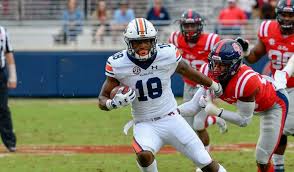 DawgNation continued to add that Johnson hoped to make his commitment prior to his first games as a senior this fall, but the pandemic has delayed decisions..
"I don't know what is going to happen now," Johnson said. "I was supposed to visit so many schools. I was supposed to visit even more back during spring break. I was supposed to visit three schools during spring break."
What he has been doing is a lot of off-season training on VertiMax and virtual visits with schools. A lot of Zoom calls. He's been speaking to coaches, head coaches and even their wives. That's all to help him get a better feel for things. He'd like to take all five official visits before he makes his decision.
"I feel like it would definitely help," he said. "There's nothing like seeing something in person. Although it does help to get a virtual visit, but in person, it is just completely different. You can just feel it in the air."
UPDATE: On August 14, 2020 Johnson tweeted he committed to Auburn University.
See the full article: Malcom Johnson Jr - Why the Jet is Now Taking a Hard Look at UGA - the first DawgNation profile features 2021 speedster Malcolm Johnson Jr. from St. Stephens's & St. Agnes School in Virginia.
---
Also, check out VertiMax testimonials and the science. behind VertiMax
---
Click below to learn more about the special technology and capabilities of VertiMax sports performance and athletic training equipment.