The world of fitness and sports performance is about to experience a seismic shift as the highly anticipated VertiMax 2023 Summit prepares to descend upon Tampa, Florida on October 7, 2023.
Hosted at the esteemed Hotel Alba Tampa, located at 5303 West Kennedy Blvd., this day-long event promises to be an immersive journey into the cutting-edge realms of education, hands-on workshops, and expert insights, all curated by the industry's best and brightest minds.
In a world that constantly seeks innovative ways to enhance physical capabilities, the VertiMax 2023 Summit emerges as a beacon of knowledge, promising to offer attendees a unique opportunity to glean insights from the leading figures in the Fitness and Sports Performance arena.
With a jam-packed schedule of enlightening sessions, dynamic demonstrations, and engaging discussions, this event is poised to revolutionize the way we approach training, coaching, and athletic development.
"The VertiMax 2023 Summit is a convergence of the brightest minds in fitness and sports performance. We are thrilled to provide a platform for industry leaders to share their insights and inspire attendees to elevate their coaching and training game," said Bryan O'Rourke, an operating partner in VertiMax through his firm Vedere Ventures.
The Keynote Speakers: A Glimpse into the Extraordinary
Three keynote speakers are set to take the stage, each bringing their unparalleled expertise and a wealth of knowledge to the forefront. These luminaries will dive deep into their respective domains, imparting wisdom that promises to reshape how attendees perceive fitness and sports performance.
Loren Landow - "Developing Rotational Power For Athletes"

Loren Landow, a distinguished movement and sports performance expert, will lead the charge with his captivating speech titled "Developing Rotational Power For Athletes." Loren Landow is a movement and sports performance expert who is renowned for his ability to analyze and correct biomechanics. Coach Landow has trained thousands of athletes of all ages and abilities, including over 700 professional athletes competing in the NFL, NHL, MLB, UFC, and WNBA, as well as Olympic medalists.

He will share his focus on building robust athletes from the inside out, Landow will delve into the intricacies of assessing athletes for optimal training excellence. Attendees can expect to gain a comprehensive understanding of everything from postural stability work to advanced rotational power exercises, all while learning a systems-based approach to spinal health and performance enhancement.

Martin Rooney - "Coaching Magic"

Martin Rooney, a globally recognized entrepreneur and fitness authority, will take center stage to unveil the secrets of "Coaching Magic." From training Olympic medalists to advising pro sports teams, Rooney's unparalleled knowledge and dynamic presence have earned him a place in the Personal Trainer Hall of Fame.

Drawing from his extensive experience working with athletes and fitness enthusiasts, Rooney will share the enchanting coaching tools that have propelled thousands to their best potential. Attendees will have the opportunity to reignite their passion for fitness and discover strategies to inspire others and create a thriving fitness culture.

Gunnar Peterson - "A Fork In The Road"

Gunnar Peterson, a renowned Beverly Hills based personal trainer, is sought after by celebrities, professional athletes, and everyday individuals. With over 28 years of experience, his innovative fitness techniques and commitment to functional training have made him a go-to expert in the industry.

Gunnar will navigate attendees through the strategic landscape of self-branding and decision-making in his speech, "A Fork In The Road." He will share the secrets to attracting and retaining training clients through strategic decision-making and powerful self-branding. Peterson will empower participants to diversify income streams, craft a magnetic personal brand, and take control of their professional journey.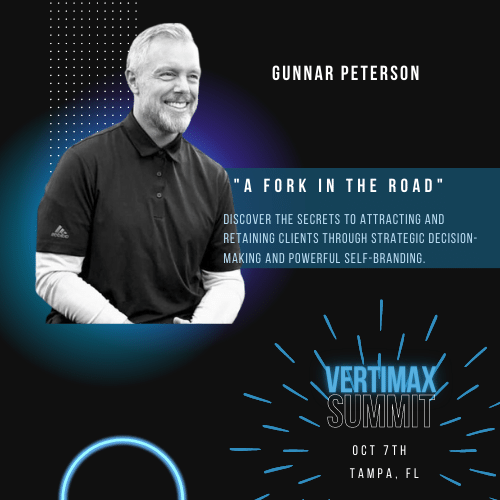 The Special VertiMax Hands-On Workout Demonstration
A highlight of the VertiMax 2023 Summit is the Special VertiMax Workout Demonstration. Led by the elite U.S. VertiMax Master Trainers, this session promises an immersive experience that transcends traditional learning. Attendees will have the opportunity to witness and participate in live demonstrations of two transformative workouts:
Unlocking Athlete Potential: The Art of Properly Assessing Athletes for Training Excellence This workshop will provide attendees with a deep dive into the art of assessing athletes for optimal training. Participants will gain insights into the evaluation process and how to unlock the full potential of every individual.

Designing Performance-Driven Training Programs: Harnessing Athlete Assessment for Optimal Results Building on the previous workshop, this session will explore the practical application of athlete assessment in designing training programs that yield optimal results. Attendees will learn how to create tailored programs that cater to individual needs and aspirations.
The Sports Performance Panel: Wisdom from Industry Titans
The VertiMax 2023 Summit will culminate with a riveting Sports Performance Panel. Gathering owners and operators from around the world, this panel discussion promises to be a treasure trove of insights. Attendees will have the opportunity to engage with industry leaders, pose questions, and gain invaluable knowledge on exercise science, effective business practices, and the real-life experiences that have shaped their careers.
About The VertiMax Summit
As the fitness and sports performance landscape continues to evolve, the VertiMax 2023 Summit stands as a pivotal moment in the industry's trajectory. Whether you're a seasoned fitness professional, a coach, or an enthusiast eager to explore new horizons, this event is your gateway to unlocking unparalleled insights, honing your skills, and forging connections with like-minded individuals who share your passion for excellence.
With its powerhouse lineup of keynote speakers, immersive workshops, and engaging discussions, the VertiMax 2023 Summit is not just an event, it's a transformative experience that promises to redefine the boundaries of fitness and sports performance. Don't miss your chance to be a part of this groundbreaking journey.
The Hotel Alba Tampa is located at 5303 West Kennedy Blvd.,Tampa, FL. Discounted room rates will be available on a first come, first serve basis. Rooms will be in the same hotel as the event. The day will include lunch and beverages and conclude with a social event.
Register To Join Us Now and Follow Us On Social Media!