Source: 247 Sports
Cori Allen is a 5 Star Basketball Guard that has been training with VertiMax to prepare for future high school games to help increase her vertical jump, balance, agility, speed and power.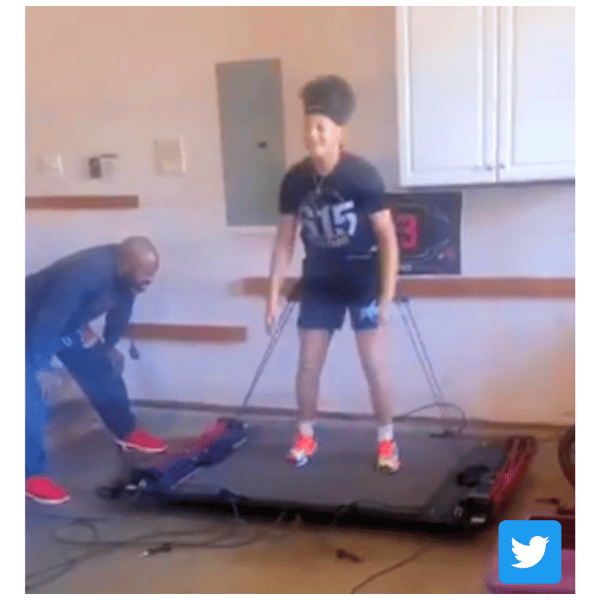 Even though 2023 guard Cori Allen, who is ranked 13th nationally by Prep Girls Hoops, is not playing right now while her Hillsboro High School team awaits the decision to play or not play this season, she is still getting her work in. Cori has 4 different trainers who all work with her on different aspects of her game.
"I have one for lifting and VertiMax and I have one for basketball," said Cori. "I work out with Jamal, AAG (all-around game), and then I work out with Marcus, and then I work out with Tara doing agility and footwork - I just have a whole bunch of different resources."
From the work that Cori has been consistently putting in, she has seen vast improvements in her game. She said that her "balance has gotten a lot better" and she has gotten quicker and faster. She also added, "I have a lot of different moves now. I've always been able to shoot, but now I'm so much more fluent with it and consistent. Basically, it's everything I already had times two."
Even though Cori could be labeled as a gym rat, she faced an uphill challenge when she attended the Wooten 150 Camp due to an unexpected medical issue. Before leaving for the camp, Cori's appendix almost ruptured and she had to spend 3 days in the hospital. After she got out of the hospital, she had to take a week off to recover because she was in "excruciating pain." After her recovery week, Cori only had a week to prepare for the camp, so she was doing "two-a-days and three-a-days trying to get back right."
In terms of the camp, Cori was able to really get going. Her three-point shooting was good at the camp, and she was able to really score throughout the runs. Even though she was gassed throughout the camp because of her limited time to prepare, she was still able to play her game and was recognized as one of the top players at the camp. Cori's performance at the camp provided a major boost to her confidence which she already has a lot of. Cori said, "Everybody there was my height or taller - 6'4, 6'5 - which is cool, but there isn't anybody out here that's blocking my shot like that. With me scoring on those kinds of girls, it just makes me feel even more un-guardable, and I'm just going to keep going to the basket."
So far, Cori's confidence has helped her stand out as she now holds 26 offers from programs across the country. So far, Cori said that her recruiting has been going well, but it has gotten harder because of all of the different schools coming after her. In order to help deal with the pressure of talking to all of the coaches, Cori schedules all of her calls and tries to talk to at least two coaches a day.
When it comes to talking to coaches, Cori is "really big on relationships." In terms of relationships, she and Mississippi State head coach Nikki MCray-Penson are on great terms because Coach McCray and her dad have been friends for a long time.
"You can't not like her. She's like family regardless," said Cori. "We really click (because) we have the same interests. They tell me stories all the time, and it's just a lot to talk about every time."
With all of the coaches interested in her, Cori has an idea of what kind of program she'd like to play for.
"The type of school I want to go to is one of those schools that worked to get to top 5 - one of those teams that don't have the best players in the country, but they have the best overlooked players in the country," said Cori. "When you don't get people with the rankings and things like that, that's the kind of team I want to be on." And Cori cited Louisville as one of those types of teams.
Read full article 5-star guard Cori Allen finds ways to improve while not playing her high school season
Also, check out VertiMax testimonials and the science behind VertiMax
---