Source: Dawg Nation
Malik Bryant is a top collegiate recruit and the nation's No. 15 prospect for 2023 (247Sports Composite ratings). His determination and VertiMax training has helped him to achieve success. He has already received many offers to play from Georgia, Auburn, Alabama, Virginia, Colorado, and more.
Malik also know as is so solid of a player that he has been selected as a team captain prior to a game at star-studded IMG Academy recently.
He has a few nicknames, "They either call me 'Lik the Freak' or 'Freak-A-Leek' all the time," Bryant said.
He also has a hashtag. . "It is basically like my motive. Like if I make a play or if something happens or anybody tags me on Instagram or any of my social media accounts. I just want them to put that hashtag #EatLikEat. That represents me." That modern hashtag goes back to days when Bryant was younger at his grandmother Claudia Bryant's house.
"I would always go into the kitchen," Bryant said while laughing. "If there were leftovers or anything I would always be the first to eat it. Or it would always be gone before anyone else could get to it. So she'd be like 'Oh my gosh Lik you are always eating' and 'like relax on eating everything' so now when I make a play on the field it is kind of like I try to kind of connect that.
He can eat like that on the field because of the constant work he does on his speed. It is often a race to the backfield with the other prized 5-stars and All-Americans on the defensive front for IMG Academy.
Why Malik Bryant Uses VertiMax To Train
"Freak-a-Lik" lives on the VertiMax in the offseason. That is a noted training device to increase speed and explosion.
Interestingly, the Ascenders have GPS trackers on their high-profile athletes at every practice. That's the same thing that UGA employs as a way to gauge how fast their players are practicing and whether or not there is any dropoff in the week from their peak efforts.
"Throughout the season when we are not doing that speed training we at least want to hit that high velocity of speed to hit or maintain that top speed," Bryant said. "That speed plays a key role in my game."
Bryant has been clocked at top speeds of 19 miles per hour in games this fall. He hit 20 miles per hour during one practice while running long sprints at practice.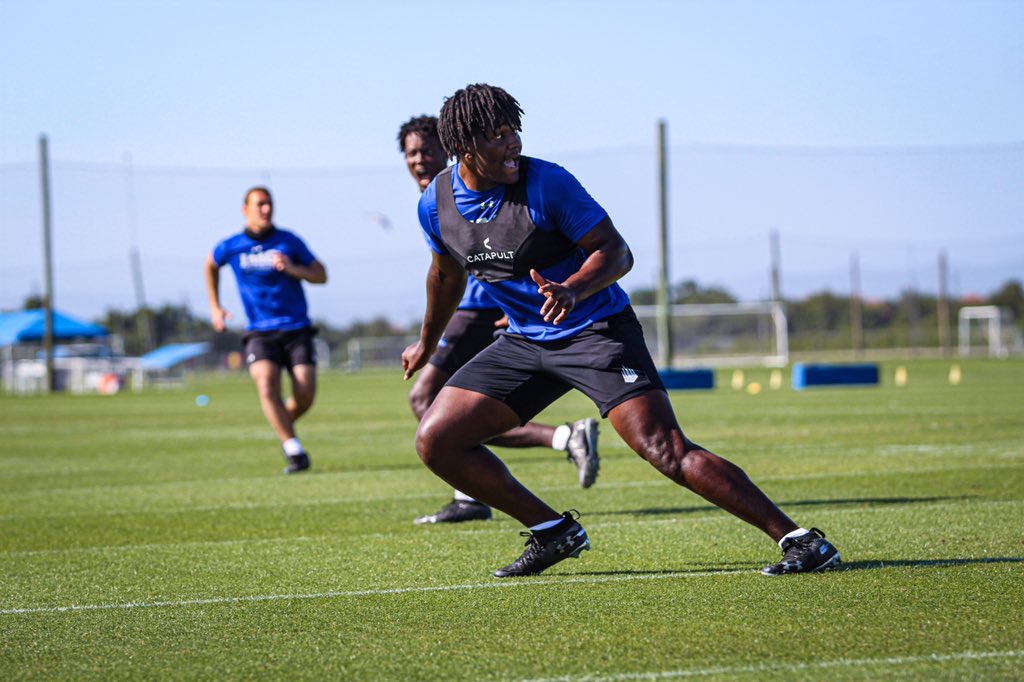 What Coaches And Recruiters Say
"They definitely tell me that I am a versatile player and that I can play many positions," Bryant said. "They say I can definitely rush the passer. I can read the run. I can drop into coverage. I can guard the slot and I can guard the tight ends. I can pretty much do it all. I basically would tell a coach he shouldn't limit me by a certain position because I'm a football player. You shouldn't have to be limited to one position because then like your value to the team goes down. For me personally, I feel like I could play anything. Even if my coach was to put me at safety. A couple of weeks ago we had a few guys go down with small injuries at practice and I had to go to safety one time and to play at nickel. I was able to play it so I would tell a coach not to limit me."
Malik said that Alabama and Georgia appear to be recruiting him the hardest at this time. With those schools, he has zero hesitation about the impact players ahead of him on the depth chart.
"Nope and it has never mattered to me and it never will," he said. "I always rise to the occasion. Competition drives me. It is within me. I feel like that is what the game is about. It is always about competing with your brothers and then ultimately going to show it on the field."
Bryant said he has no questions at this time about Georgia. He also said he felt the Bulldogs were going to have this type of season when he saw the team up close this summer.
"From just way, before the season, you could just tell by the atmosphere there," Bryant said. "I could tell they were building something special. I am glad that they are working toward the national championship."
Dawg Nation Source Article: Malik Bryant: Coveted 5-Star OLB Already Thinks Of Georgia As Home
---