Source: The Wichita Eagle
During the quarantine, Morris Udeze worked with trainer Brannon Burnett to improve his vertical jumping and first-step quickness by utilizing VertiMax along with an intense training program.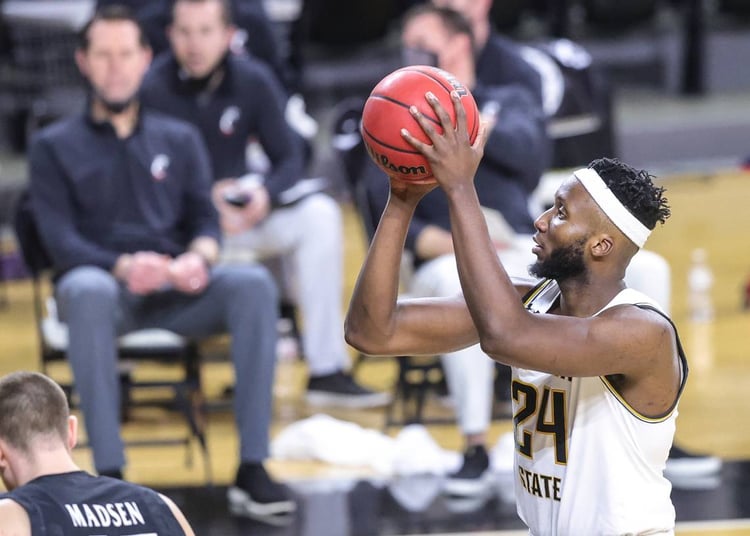 Udeze is a 6-foot-8 center who has played two seasons at Wichita State. He was not happy with his two seasons, and was beginning to explore his options outside Wichita State.
He kept thinking of one conversation with his father, Felix Ihegworo, who said "You can't rush it. It's like a marathon, You've got to keep pushing every day and one day it's going to break through for you." Udeze said "My dad kept telling me to just keep pushing and stay on it every day. Give it your all."
It ultimately convinced Udeze to continue running his race at Wichita State. The perseverance has paid off during the quarantine where he was able to continue training with Brannon Burnett, the trainer who has worked with Udeze in his hometown of Houston since 2016.
A typical day for Udeze when he's back home in the summer involves sprints in the Houston heat on a track followed by running hills. Up next, he'll hop on the VertiMax, which aims to improve vertical jumping and first-step quickness. Then it's on to strength and conditioning, where he'll work on flexibility and strengthening his core and upper body. He also works on his defensive slides in a pool.
And that's just what he does without a basketball. When he steps on the court, Burnett forces Udeze to shoot and play through fatigue. Every drill is timed. He has to dunk medicine balls and finish post moves wearing a weighted vest while being pushed and bumped by Burnett. From 6 a.m. to 7 p.m., Udeze is training.
"Our training is like none other in the United States. It's a lot of work, man," Burnett said after rattling it all off. "But Morris had a great offseason. I knew a breakout was coming."
After losing out on his entire off-season between his freshman and sophomore season due to shoulder surgery, Udeze was motivated to make his first real off-season of work count. He was able to get a jump start on his training with Burnett since the basketball season and school year was cut short due to the coronavirus pandemic.
After nearly five months working with Burnett, Udeze said he arrived to WSU this season in the best shape of his life. He now weighs close to 235 pounds, about 20 pounds lighter than when he arrived in college, but he says he's stronger now.
"I cranked it up to a whole new level because quarantine gave me extra time to get way better," Udeze said. "I took it as I'm going to catch up to everybody who was better than me at the time or thinks they're better than me. I'm going to catch up during this offseason. Quarantine gave me a lot of time to patch up my game."
But for the first time in his career, Udeze is getting to work through his problems on the court. His trainer said after working with him for five years, Udeze's resolve is his best attribute.
"Morris is so mentally strong, he's capable of pushing through anything," Burnett said. "He's going to have his ups and downs like everybody else, but he's not going to beat himself up. Even when things go wrong, he's able to put a smile on his face and put his hard hat on and go to work. Not a lot of kids can do that when things don't go their way. But Morris is built different."
It's not a coincidence that Udeze has 12 dunks through 11 games this season after dunking just 10 times in 44 games the last two seasons.
Udeze was just chosen American Athletic Conference Player of the Week after scoring a combined 38 points in wins over Cincinnati and Tulsa, including a career-high 20 points and season-best eight rebounds in the Tulsa win.
After playing a minor role (4.3 points in 10.5 minutes) on last season's team, Udeze has risen to the challenge of playing a key role as WSU's starting center by averaging 9.4 points, second-best on the team, and playing 19.1 minutes for a Shockers squad that has won seven of its last eight games and become one of the nation's top surprises.
"I told him all summer long, 'Morris, just keep working and get yourself in tip-top shape,'" WSU interim coach Isaac Brown said.
Read full article 'It's like a marathon': Udeze's perseverance pays off big for Wichita State basketball
---
Also, check out VertiMax testimonials and the science behind VertiMax.
---