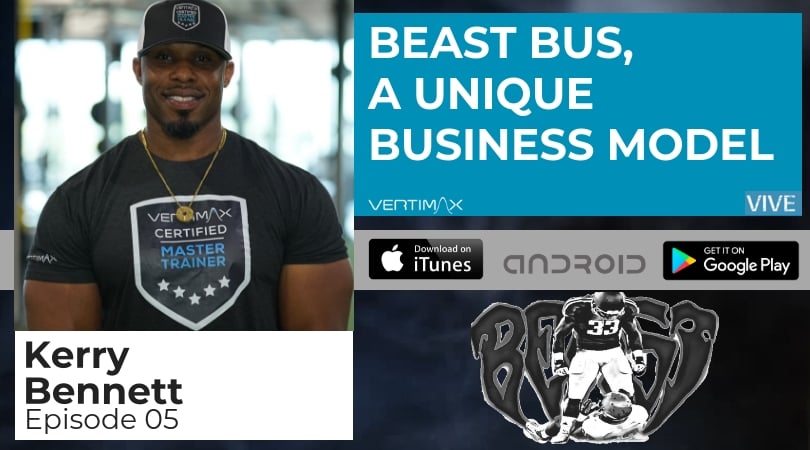 A mobile sport performance facility that brings the best equipment to athletes
Kerry Bennett is a veteran in the strength and conditioning industry, with 17
years of experience. In his youth, he played football for the Stephen F Austin
State University, and graduated with a degree in kinesiology. He went on to
play for the Washington Redskins, before entering the sports performance
arena. Today, he is revolutionizing the sports performance coaching industry
with a business model that is so unconventional, yet so successful in Texas.
On this episode hosted by Ned Arick, Kerry shares more about his origin
story, and how his experiences as an athlete have shaped his philosophies as
a coach. He also explains more about his programs that are not only
innovative, but also cater to each athlete's individual needs and capabilities
to make them better at what they do.
Kerry and Ned also break down his new, revolutionary approach to sports
performance training. With the launch of his Beast Bus, Kerry is able to bring
high end, top notch equipment to athletes and teams by offering them a
mobile sports performance facility. Kerry reveals the inspiration behind it,
and how other coaches can create a similar offering in their area. Tune in to
find out more!
Powerful Quote:
"I make it a big deal to understand the people that I'm working with, the guys that I'm working with." — Kerry
Highlighted key topics discussed:
Kerry Bennett goes into his background and how he got where he is today. [5:50] Kerry talks about his work with Christine Michael? [7:12] He goes into what kind of impact his background had on his philosophies as a coach. [13:31] How does Kerry come up with the innovative movements he uses in his programs. [19:34] Kerry explains more about his relationships with sports coaches, and how he complements the athletes' sports training programs. [26:16] What is Kerry and Ned go over Kerry's recommendation for coaches who are trying to get into the high schools. [29:37] Kerry explains what the Beast Bus is and how he utilizes it. [47:17] Ned and Kerry talk about obstacles Kerry has run into in his business so far.
Resources: