Want to reach top Rugby speeds? Get these rugby sprint tips from one of the fastest rugby players in the World. The Wold Rugby Sevens USA star is Carlin Isles. He takes his rugby speed training to the next level with the VertiMax Raptor,
Carlin lsles, who is known as the "Fastest Man in Rugby," shows off the Raptor portion of his extensive workout regimen as he prepared to compete in the Rugby World Sevens Series for the United States in Rio. Carlin's blazing speed has earned him a qualifying spot to compete in the U.S. Olympic Trials in early July in the 100 meter dash. That makes Isles the only rugby player in the world fast enough to compete against their country's best in the Olympic 100 meters.
The Raptor training technology allows elastic bands to stretch long distances without resistance radically increasing. That gave Isles the unique advantage of accelerating both with and against elastic resistance for over 40 yards. The increased resisted training distance allowed Isles to reach higher resisted training velocities to better develop acceleration power and top end speed, helping Isles bring blazing speed and some ridiculous athleticism to the sport.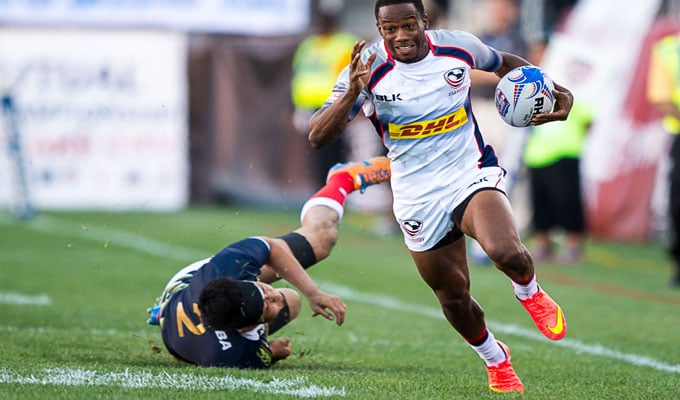 With an almost superhuman combination of speed, agility, and strength, Isles was a key to winning the United States vs Brazi game when he scored three tries to lead the U.S. men's rugby team past Brazil 24-12.l, Isles completed a hat trick in the second half by scoring.
Rugby made its Olympic return in 2016, last being played in the Olympics in 1924, where ironically the U.S. rugby team won gold! Isles is always training hard for competition and the Raptors are a vital part of his regimen. Rugby Sevens returned in 2020 to Tokyo, with the next one in Paris in 2024.
Isles also competed in his second Olympics as one of the leaders of the USA Rugby Sevens team in Tokyo.