High School Basketball Season is coming fast! There are a lot of new coaches making their debut as well as coaches with 20+ years experience and could use a fast start with coaching advice from experience high school basketball coached. No matter how long you have been coaching you can always learn from someone whether it's coaching strategies, practice strategies, offense, defense, and even coaching individual athletes. I've been helping and learning from basketball coaches the past 5 years I've been with VertiMax and I decided to reach out to some of these coaches and get their best advice, lessons, strategies and share them with the basketball and coaching communities.
Top Basketball Team Coaching Advice
1. Organization
Organization is one of the best lessons and advice Head Coach Mike Tobin Basketball Coach at Cartersville High School in Georgia. "Be organized in all practice and games". Some of the best ways to be organized is to create team goals. Outline what you want to accomplish as a coach, player goals, team goals. Setting these goals and planning an attack around them is a great step towards organization and structure at every level of the team.
2. Trust
Seth Eilberg is the Head Basketball Coach at The Hill School in Pennsylvania and the best advice he has received is "players don't care what you know until they know you care about them. Building a trusting relationship opens up the door to being able to coach kids and help them reach their full potential". This is fantastic advice for just life, period. When you care and show you care it's authentic and athletes and people buy into you as a coach and as a person. It's one of the best ways to naturally gain trust from anyone.
3. Don't Over Coach
It sounds simple, but over coaching can be easily a trap to fall into. John Aguilar Head Basketball Coach at Rye High School in New York offers great insight on over coaching pitfalls, "Don't over coach. If you are more talented than another team, put your players in a position to read and react to the other team. You don't necessarily have to call out a ton of plays or try to "out-coach" the other coach. Trust what you've built in practice to carry over to the games".
4. Commitment
Commitment to the game plan, coaching and each other. Keith Zalaski, Head Basketball Coach at The Rivers School in Massachusetts says "The best advice I've learned and figured out over time is that the most important part of coaching basketball has little to do with basketball. A college coach I know always said that there are a million different ways to approach the game, as the combination of offensive and defensive schemes is almost endless. The important part is that you know your players, find something that fits you and them, and then focus on getting everyone on the same page and committed to what you are doing. The commitment part is the key, and thus the success of a team doesn't fully rely on the talent but on the trust and commitment of the group to give up themselves for the betterment of everyone"
5. Well-Conditioned
Imagine having a team where their energy seems endless? I'm sure as a coach you see some athletes that just seem to have a never ending motor. Head Basketball Coach Mike Jones at St. Stephen's & St. Agnes School in Virginia highly believes in a well conditioned team. He says " The best advice I received was from my high school. When I started coaching he told me to keep it simple and make sure that your TEAM is well-conditioned. He would also say a well-conditioned team that is physical and communicates on defense, plays unselfishness on offense is a very difficult TEAM to defeat. This is how we like to play at St. Stephen's and St. Agnes."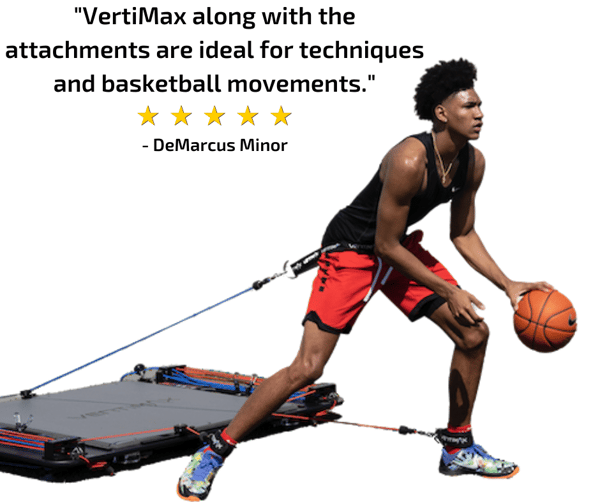 6. Development and Accountability of the Team
Imagine having a full team that played and practiced hard every time? Imagine being so unified as one that everyone held each other accountable. This is what Head Basketball Coach Lamar Reddicks at Milton Academy in Massachusetts has to say "One of the best pieces of advice that received as a High School Coach was, "you are only as strong as your weakest link". "The success of the entire team depends on the success of each individual member of the team. If one person fails, the whole team fails. To me this speaks to all the successful teams we have had here at Milton Academy. We obviously had some talented players but if it was not for the kids at the end of the bench who pushed our starters each day in practices then we would have never have been as successful as we have been. Do a lot with developing the back end of our talent so that they can push our top players. In many cases those kids who may not get as much playing time as others have left an impact on our program by how hard they pushed the other players day in and day out. We talk about how individually we are all important but we know when we are fully connected and working together, we are unbeatable".
7. Develop Leaders on the Team and be Self Aware as a Coach
This is a great story here from Head Basketball Coach Mike Anderson at Greenville High School in South Carolina. "This is my 20th year as a high school basketball coach in the state of SC. We've had one of the best programs around our area, most of our kids come back after graduation, and have always felt like we were outworking our opponents. However, I repeatedly ran into the issue of, "we just don't have any good leaders." Even though I had been a successful coach, I wanted to up my game and become an even better leader myself. I needed to grow in the leadership department."
"I had several conversations with Jeremy Boone (Charlotte, NC/Athlete By Design) and even joined his LeaderKit Program. Mr. Boone works with college and professional athletes and teams across the globe. Through this curriculum, I had to look in the mirror. We lacked leadership, because I was not teaching them how to develop their leadership skills and qualities effectively. Leaders are not just born, they have to be developed. Yes, some kids have a natural ability to lead and that definitely helps, but to be the program we want to be, we needed some additional resources."
"In 2017-18 we lost a tough play-off game to a very good team. In 2018-19, we played the same team in the play-offs. They returned everyone from the previous season and we had lost two 4-A All-State players. We beat them last season, and I attribute that success directly to our improvement in our culture and leadership. When I was younger, I thought I knew everything. It is okay to seek help and advice from others"
"Young coaches, please do not make it about basketball or your sport only. I think it's safe to say, we all got into coaching with great intentions. For me, that is to develop young men for success in the real world when the ball stops bouncing one day. If our athletes live to be 80, then their 4 years with us only make up 5% of their life. Our coaching philosophy this season with our entire staff is, "to maximize that 5%." We only have a limited amount of time to get these players ready for the rest of their lives. Your culture, mission, accountability, and leadership makes a big difference in winning or losing that close game on Friday night, but more importantly it makes an even bigger impact one they leave your program. Don't neglect it."
8. Build Character
High School Coaches can have an everlasting impact on their players. Paul Foringer, Head Basketball Coach at Quince Orchard High School in Maryland, started holding his athletes to higher academic standards so that they're prepared for their future in college. "When I first started coaching I decided to hold my players to a higher academic standard than the required 2.0 by MCPS. Reason was the sliding scale by the NCAA. A 2.0 requires an SAT score over 1100. That is tough to get. If I ever have a player good enough to play big time college basketball, I want him to qualify. So I chose my starting lineup from the players that have a 2.5 or higher. I check grades every 2 weeks. A player with a 2.5 needs an SAT score of 800 to qualify. All of my players who have been good enough to play college basketball, have qualified. If my players don't maintain the 2.5 they come to mandatory study hall after school. Understand, they can make the team with a 2.0, but can only be a starter with a 2.5. The success stories that I've been a part of are really what makes me feel I've made a difference in these boys' lives."
"If I had to tell a new coach what to concentrate on just starting out. It would be to stop worrying about winning games and build great character in your players. Hold them to a line that they can reach and then raise it. Winning at life is way more important than winning any basketball games in high school."
9. Refine the Basics and Be Authentic
At the youth level in just about any sport it's very easy to see the basics falling apart. That's why Head Basketball Coach Latrez Chestnut at SLAM! Tampa in Florida continues to refine those basics. Coach Chestnut says "Starting with the "basics" and continuously refining those, leads to a strong base of fundamentals, helps develop great discipline, and keeps athletes from feeling overwhelmed (all are highly important in the game of basketball)" Don't just look at the current sports performance trends, but the experienced coaching advice on the basics from experts.
He also talks about being authentic "Athletes respond best under conditions where they feel like their coaching/leadership personnel is honest, respectful, and understanding with them; that is what it means to be authentic to me. I lead with that type of attitude with all my athletes and it allows them to be themselves and develop their skills in a space where they feel safe to accept growth. It is an absolute pleasure to have the opportunity to help another achieve their goals, as a coach, I accept that responsibility. In accepting that responsibility, I strive to develop strong honest relationships with athletes, take time to show them how to stand on their own 2 feet in society, and most importantly instill simplicity in all dynamics."
10. KISS
Keep it Super Simple - straight and to the point is what Head Basketball Coach John Mosco at Archbishop Wood High School in Pennsylvania offers for advice. I can see how sometimes practices and game plans can possibly get too confusing or overwhelming for players. It may be best to just keep it simple. Which I hear is easier said than done!
Conclusion
Coaching has some of the greatest impact on players and lives of youth. It's been a pleasure to hear the responses on the advice these basketball coaches have received whether it's building character, being organized, being authentic, accountability, developing leaders and making athletes. All of us can learn a thing or two from anyone. Hope you enjoyed the advice from these coaches and if you have anything else to add please comment! Would love to update this article to share with the community!