We welcome stories and videos of Olympic athletes training for the Tokyo Olympics. The Tokyo Olympics started on Friday, July 23, 2021. Check out the journey with some of our top Olympic athletes training with VertiMax!
With the world events that occurred in 2020, it is an exciting opportunity for all athletes to perform and compete in their particular sporting events.
6 Olympic Athletes Training on VertiMax
1. Draymond Green
Basketball
Olympic gold medalist Draymond Green returns to the U.S. roster for a second straight Olympics. Completing in 2020-21 in his ninth NBA season, all with the Golden State Warriors, Green has helped the Warriors to three NBA Championships (2015, 2017, 2018).
2. Crystal Dunn
Soccer - Defender
Dunn plays for the Portland Thorns FC of the National Women's Soccer League (NWSL) and the U.S. women's national soccer team. Dunn played for North Carolina Tar Heels was awarded the 2012 Hermann Trophy . She is a two time Olympian, first in 2016 and now in Tokyo 2020/2021.
3. Phil Dalhausser
Beach Volleyball
Dalhausser is a four-time Olympian 2008, 2012, 2016, 2020/2021) with a 2008 Gold medal. A native of Switzerland, he moved to Florida to attend University of Central Florida. He and his volleyball partner. Nick Lucena. were in the 2016 Olympics, The pair earned the Olympic spot again for Tokyo.
4. April Ross
Beach Volleyball
Ross will be a three-time Olympian (2012, 2016. 2020/2021. She is a two-time Olympic medalist with one silver(2012) and one bronze(2016). Ross is experience with her third Olympics, while her partner, Alix Klineman,is making her Olympic debut. Ross is known for one of the most powerful serves in volleyball.
5. Carlin Isles
Rugby
USA star, Carlin Isles, is known as the fastest man on the World Rugby Sevens circuit, A prolific football player and track star setting sprint records, Isles then focused on Rugby playing with the Eagles. Isle was in the 2016 Olympics and now the Olympics in Tokyo 2020/2021.
6. Monica Abbott
Softball - Pitcher
Abbott will be at Tokyo 2020/2021. She was in the 2008 Olympics and won an Olympic Silver medal. She is a left-handed pitcher and remains one of the best pitchers in the world in her 12 year of her professional career. She plays in both the United States and Japan.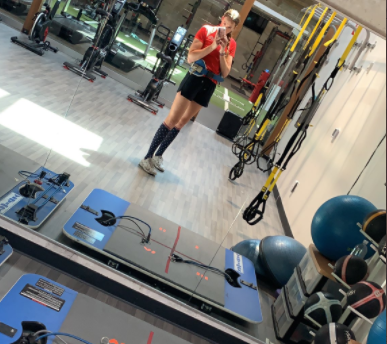 7. Bubba Nickles
Softball
Nickles will be in her first Olympics at Tokyo. She was named USA Softball Junior Female Athlete of the Year and the Gatorade National Softball Player of the Year as a high school senior. Then she had an All-American season as a junior at UCLA, in helping lead the Bruins to a national championship in 2019.
VertiMax is the unchallenged best way to improve athletic speed and explosive play-making abilities. Hundreds of colleges and performance centers across the US including 65% of the NFL, 50% of the NBA, 65% of Division 1 colleges now use VertiMax to develop athletic speed & power.
Stay tuned for Part 2: Olympic Track and Field Athletes Training on VertiMax