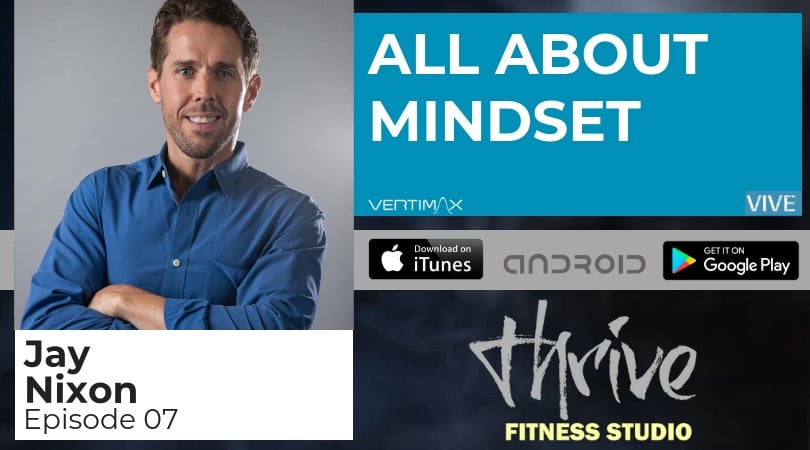 Jay Nixon is a speaker, mentor, coach, owner of his own Thrive Fitness Studio in Palm Desert, California, and author of The Overweight Mind. For over two decades, he has helped thousands of people achieve total body transformation — through fitness, nutrition, and personal development coaching.
On this episode hosted by Ned Arick, Jay dives into mindset coaching and momentum. He explains what momentum stacking is and how the most successful people, athletes and teams use it to build on little wins to achieve great things. He also relates momentum (and negative momentum) to mindset, and shares more about why mindset is so powerful.
Even if you have the perfect program, location, facility, nutrition, etc., if your mindset is not where it needs to be, you will always fall short. As a mindset coach, it is up to you to bring that mindset as you approach each situation. Jay and Ned discuss why mindset is such a key factor in success, not just in sports but also in life, and why visualizing your goals can help them come true. Jay also shares some strategies for coaches to improve their athletes' mindsets, and how to help them surpass their potential by giving them the right tools, education and support. Tune in to find out more.
Powerful Quote:
"As humans we're capable of so much more just by training and getting that mindset to be at its peak state." — Jay
Highlighted key topics discussed:
Jay Nixon talks about his belief in momentum stacking. He explains how it has played out in his lie in the past few days. [7:59] Jay talks about how as a coach, your duty is to create momentum. [8:52] Negative momentum is created not necessarily because of the food, or the gym, but because of the mindset. [10:03]Jay speaks about his book the Overweight Mind about. [11:52] Ned and Jay discuss what percentage does mindset contribute to fitness and success? [16:42] Jay talks about how coaches can tell when someone's mindset isn't great and shares some of the cues he looks out for. [20:00] Jay speaks about what works to change someone's mindset for the better and bring it up. [24:50] Ned and Jay discuss the Patriots and how mindset plays into their success. [31:29] Ned shares an anecdote from his college days, and how that relates to mindset of success. [34:43] Jay shares more about the power of visualizing and how your brain focuses on things you're obsessed about. [47:51] Your mindset allows you to create the standards, the rituals, the habits that are necessary to be successful. [52:10] Jay highlights a chapter in his new book called the Personal Development Vortex [55:11] Jay talks about what he is most excited about in his life in the next six months.
Resources:
Check out more tips and videos for coaches by clicking here.
Jay Nixon, Thrive Fitness Studio
Thrive Forever Fit Podcast with Jay Nixon
---