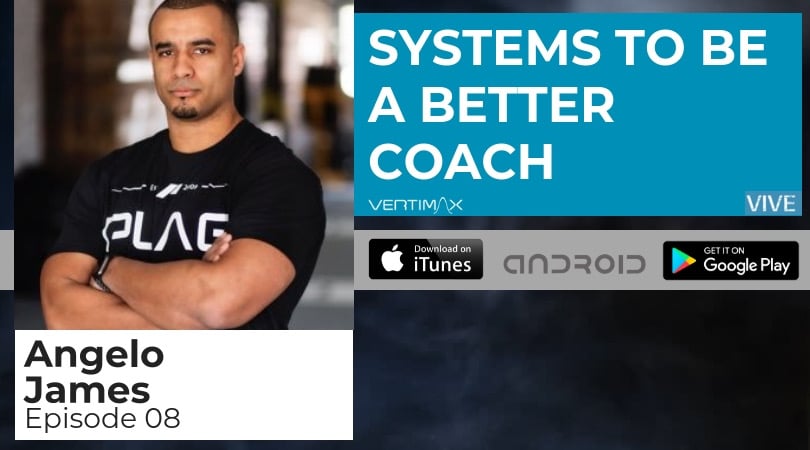 Process planning will change your life and career
Angelo James is the Owner and Founder of the James Training Systems. He has had extensive experience coaching all levels of athletes and developing systems to be a better coach. He has been a strength coach at the professional level, collegiate level, high school level, and private sector. He also has experience with business and sales, coaching internationally, and working for one of the top performance brands in the world. He has been a Director of Strength Conditioning, Director of Programming, Director of National Athletic Sales and now, an entrepreneur.
On this episode hosted by Ned Arick, Angelo dives deep into his experiences as a coach across various levels of athletes and all the lessons he has learned in his career as a strength coach. He shares more about the obstacles he faced, his failures, getting fired, and dealing with other coaches — all of which gave him insights into the importance of systems.
As a coach, you can harness the power of systems and processes in order to make you a better, more efficient, more effective coach. Angelo reveals his seven laws of highly efficient systems, as well as explains how mindset and relationships play into your success as a coach. Tune in to this jam-packed episode to get all of Angelo's insights about how systems and processes can help you become a more successful coach.
Powerful Quote:
"Because we convince ourselves we're this independent authority, we do not see the inter-connectivity between our role and the role of everyone else." - Angelo James
Highlighted key topics discussed:
Angelo James goes into his background at [12:49] Angelo talks about what caused him to make the shift from being a strength conditioning coach to focusing on the systems aspect of things. [27:32] Angelo shares some of his 7 laws of highly effective systems. [37:38] What it means when Angelo says that the results have to be significant. [38:58] Angelo explains more about the importance of mindsets. [45:20] Angelo shares more about his personal journey of being a collegiate coach. [52:10] The next stage in Angelo's journey was in the high school setting, and he shares some of the lessons he learned in his career. [55:33] Angelo shares what he hopes to do with James Training Systems.
Check out more tips and videos for coaches by clicking here.
Resources:
James Training Systems on Facebook
7 Habits of Highly Effective People, by Stephen Covey
Jeff Janssen, Commitment Continuum
5 Dysfunctions of a Team, by Patrick Lencioni
Lessons in Strength, by Angelo James