Over the past 5 years, I've had the opportunity to visit high school athletic programs across the country. From inner city schools to the corn fields of Indiana (Shout out Brian Clarke!). From the 6A 3,500 student Texas schools to 600 student programs.
Regardless of those factors, I found there were a handful of common denominators that created a successful and winning environment.
There is much emphasis on making sure students have high-quality teachers and are prepared to succeed academically, but most people don't understand sports as a way of teaching life lessons — a character education program of the most important kind. We have to understand that sports are where students can learn life lessons — probably better than in the classroom. Successful athletic programs have embraced this thought process.
These 5 habits will certainly help athletic programs build high performance environments.
(1) Culture - This drives the programs habits, expectations and beliefs. Everyone must know and believe in the vision and, as a program, must reinforce it and build on it.
It is a widely held belief that team culture can have a big impact on how a team functions and performs. How team members, think, feel, behave, and perform are all influenced by the environment in which they practice and compete.
A successful program is a family, and that atmosphere is created through trust. Trust comes when people feel that they are valued as individuals from those who have authority. In order to create this environment, make it a point to talk to every player every day. You'd be surprised at how often that does not occur in sports.
A culture is the expression of a programs values, attitudes, and goals about sports, competition, and relationships. It determines whether, for example, the team's focus is on enjoyment, rebuilding, or winning or whether it promotes individual accomplishment or team success. A program culture is important because it directly influences many areas that affect team functioning and performance: For example, we have 6 Core Values at VertiMax:
Commitment to excellence
Be caring and accountable
Act with integrity
Openly communicate and be transparent
Be innovative
Be strategic in how we think and act
These values are our culture and anchor every aspect of our business in a set of community-held beliefs and commitments.
What are your core values?
(2) Communication - Collaboration and communication are keys to success. This ranges from the administrators and coaches within the program to other coaches, officials, athletes, parents and community members, you need to know how to communicate with them.
Internally, coaches need to communicate frequently with the team. collectively and individually. Listen to what players say, and take the temperature of your program daily.
X's and O's are overrated. When team members connect, they work for each other instead of with each other. Stay connected with those in your program, and never assume that relationships are strong.
"Team beats talent when talent isn't a team," -Jon Gordon
(3) Leadership - High school athletics creates a unique situation with many layers of leadership. Athletic directors have the opportunity to establish a vision for the program, strength and conditioning coaches can ignite the pulse, coaches connect with their players on and off the field, and the athletes themselves can lead their peers.
Share your vision with others and get them involved — it creates buy-in.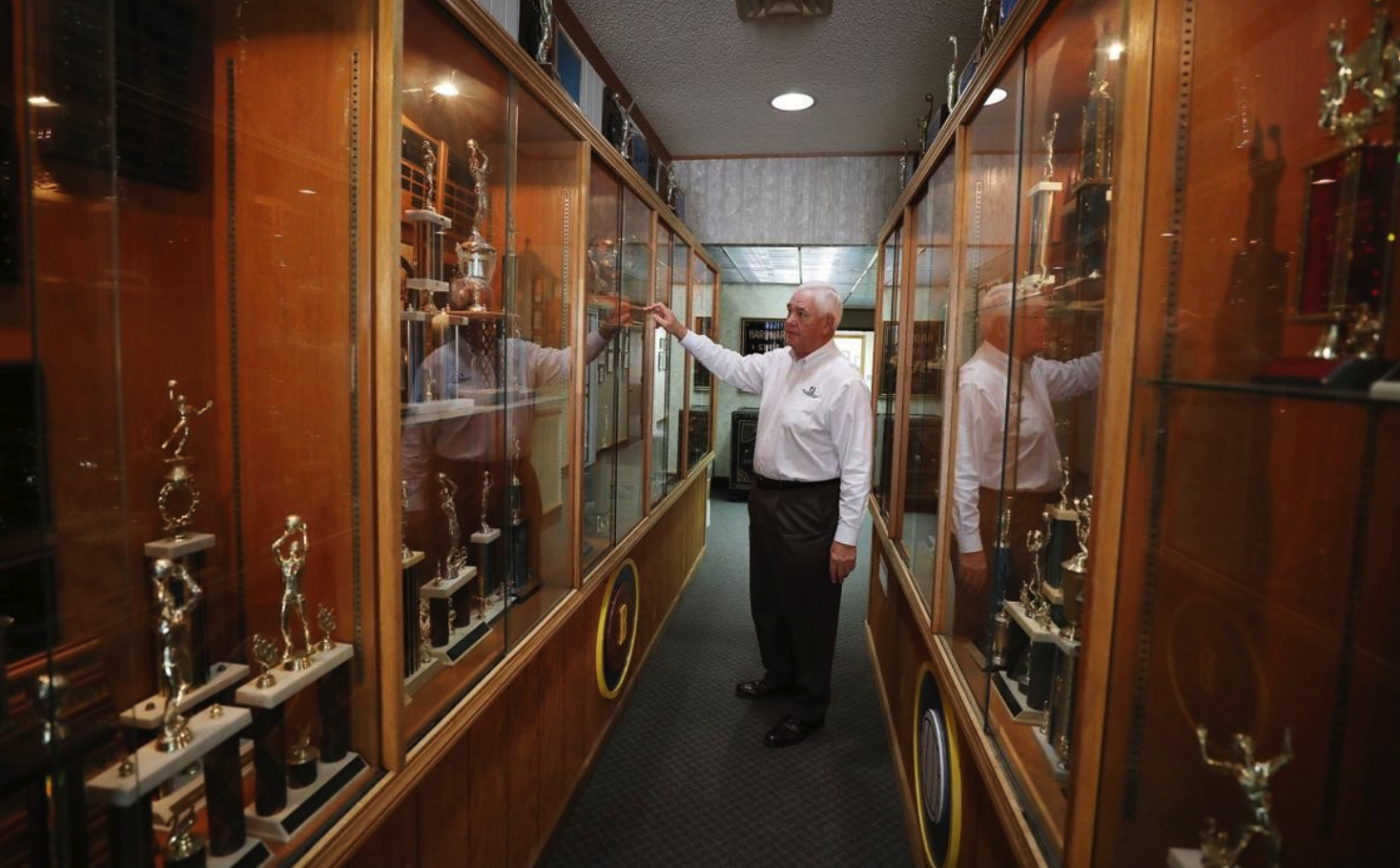 As students advance through the ranks of the high school team, they learn valuable leadership skills. Senior athletes are expected to encourage younger team members and hold them accountable. They set an example and often provide advice and guidance both on and off the field.
(4) Dedication to Strength and Conditioning - Strength & conditioning coaches are essential for every high school.
The strength coach is much more than a coach that teaches student-athletes how to lift weights and they have a much larger impact on the athletic department than most would think.
Strength and conditioning programs are built and implemented by the strength coach and these programs and the exercises are carefully implemented so that athletes can maximize their training. Training safely, efficiently, and smart are part of the coach's job and they're the expert. You can't just have kids squatting and benching every day. Proper scheduling, rest, progressions and variation are key to reducing athlete's injuries and improving their athletic performance.
Great programs are ones who continue to evolve with the times. Don't allow your program to fall behind by not valuing the importance of your strength and conditioning program.
(5) Community Involvement - Connect with your community! How many hours a semester are your kids doing volunteer work? Some schools are encouraging their student athletes to average 15 to 20 hours per semester helping organizations and community members do things like:
Host a 5K
Leaf clean up for an elderly person in the community
Serve dinner and play games at a shelter for homeless families
Work at the Ronald McDonald House
It is also important to have a strong connection with local newspaper beat writers, radio stations and television stations. They may not be able to attend every event, but you are still providing them with positive examples of young people in the community achieving success on and off the field.
Provide the local media with article ideas to feature athletes who exhibited exceptional sportsmanship and served as a leader for other teammates. Share stories about athletes who have overcome life hurdles and injuries in order to play the sport or to make the team. These are human interest stories that are sometimes very relatable.
What's not on this list? I would love to get your views on what makes a high performance culture within a athletic program.