In basketball, having a strong vertical jump and flash-like agility isn't an option, it's a requirement. Here is a basketball skills training program that must be in your weekly workouts for explosiveness.
When you want to jump higher and have insane side-to-side agility reflexes, you need to base your basketball skills training on the best and most proven exercises. If you are having trouble with your vertical jump or agility, just practicing lay-ups and running laps around the court doesn't mean you will get any better.
7 Basketball Skills Training Exercises
1. Jump Squats
This upgraded version of the traditional fitness exercise is sure to skyrocket your vertical jump. What's more, it develops explosive power that will easily come in handy with your agility on the court. It activates the fast-twitch fibers of several major muscle groups in the lower body including the quadriceps, hamstrings, glutes, hip flexors, and calves. If you want to jump higher, these are a must.
How to Perform: Stand tall with your feet at shoulder-width distance. Keep your chest up as you bend at the knees and sit back as if you're about to sit in a chair. Once your thighs reach parallel, push through your heels in an explosive jump straight up in the air. Land softly and immediately go into your next jump squat.
Ability Focus:
Vertical Jump
Explosive Power
2. Tuck Knee Jumps
Another great way to increase your explosive power, tuck knee jumps aren't just a way for you to jump higher. They also demand lower body control to bring the knees up, touch the chest, and return before you land. This exercise will increase coordination, fast-twitch fiber control, and, of course, all-out power.
How to Perform: Stand tall with your chest up and feet at shoulder-width apart. Similar to the jump squat, you'll start by bending slightly at the knees and driving your hips back only a little bit. From here, jump straight up into the air. Simultaneously flex your pelvis and bring your knees up towards your chest. Reverse the motion and land softly. Take a pause to correct any posture issues then perform the next repetition.
Focus:
Vertical Jump
Explosive Power
Lower body control
3. Overhead Reaching Jump
Consider this the next level of the jump squat. It will combine the explosive upward motion of the jump squat with a standard overhead reach that is all too common in your sport. You might find that you can jump higher with this variation of the exercise from the momentum of the overhead reach itself. We don't need to tell you how important a strong overhead reach is for defense and catching passes.
How to Perform: Stand tall with your chest up and feet at shoulder-width apart. Similar to the two exercises above, you'll start by bending slightly at the knees and driving your hips back only a little bit. From here, jump straight up into the air. The big difference is that as you jump, you'll simultaneously launch your hands skyward. As you descend, bring your hands into a defensive position close to the chest. Land soft, readjust your posture, and begin again.
Focus:
· Vertical Jump
· Explosive Power
· Reaching ability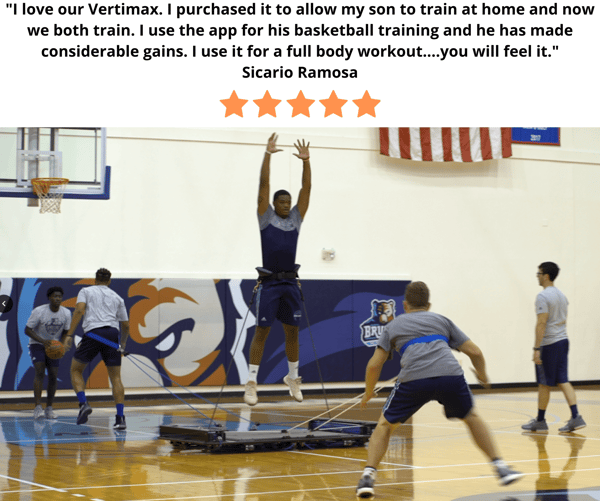 4. Single-Legged Cross Jumps
Training your body, regardless of the athletic goal, requires a balance of multi-joint and isolation movements. When you isolate a muscle group, you are strengthening its ability to perform a specific movement, which in turn will support the larger muscle group movements. In this case of improving your jumping ability and agility, you'll want to perform single-legged cross jumps.
How to Perform: You will make the shape of a cross with thisjumping drill. Start on the left leg with the right leg tucked behind. With your chest up and core tight, leap forward with your left leg. While still facing forward, leap on your left leg to the left side and down. Now leap directly to the right, and finally back to the starting position. Switch legs and begin again.
Focus:
Vertical Jump
Explosive Power
Agility

5. Wall Touches / Cone Taps
Let's focus more on the agility side of things, although explosive power will continue to be developed and improve your vertical jump. A classic athletic drill, wall touches or cone taps are great for developing those quick reflexes that will show in your improved agility.
How to Perform: Set up two cones a good distance apart from one another. Begin in the middle of the cones. If you're using walls, stand between two walls. An indoor racquet ball court works best. Sprint to your right as fast as you can, tap the cone or wall, then immediately change direction and do the same on the other side. You can vary the distances for each set that you do. If you're using cones, you can also add a second or third pair in a ladder-like arrangement, where you'll have to sprint in a zig-zag fashion from side to side.
Focus:
6. Lateral Plyometric Box Jumps
Everyone performs box jumps, even the Average Joes at the gym. For basketball players, box jumps are going to be incredibly important but there's a twist: you'll be jumping in a lateral fashion. Lateral box jumps will strengthen your hip flexors, which will benefit your side-to-side agility with an emphasis on sudden stop-and-go.
How to Perform: Arrange a steady box on the ground. Stand next to it with your left side facing the box. Keep your chest up and core tight as you slightly bend your knees. Explosively leap from the ground and completely on the box. You can choose to step down or lightly jump back into the starting position. Once you finish your prescribed repetitions, switch sides. Make sure you vary the height of the boxes during the workout, challenging yourself to increase the height.
Focus:
Explosive Power
Agility
Jumping Ability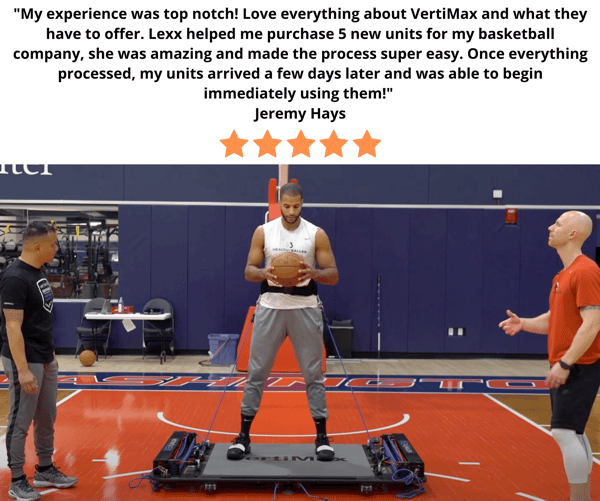 7. Uphill Sprints
Our final workout is a classic that is used by athletes in every sport, but uphill sprints have a unique place in the basketball player's workout. Uphill sprints dramatically improve your endurance levels, but more importantly for performance, they skyrocket your explosive power and lower body strength.
How to Perform: Begin with a warm-up before tackling sprints. Starting from the bottom of a hill, give yourself about 10 to 20 feet to work up your speed. Run for those 10 to 20 feet then once you hit the hill, go all out. Run as fast as you can until you reach the top of the hill, walk back down, rest for a few moments, and do it again. Do not sprint down the hill.
Focus:
Explosive Power
Lower Body Strength
---
Get More Training Drills
Drills to Increase Vertical Jump