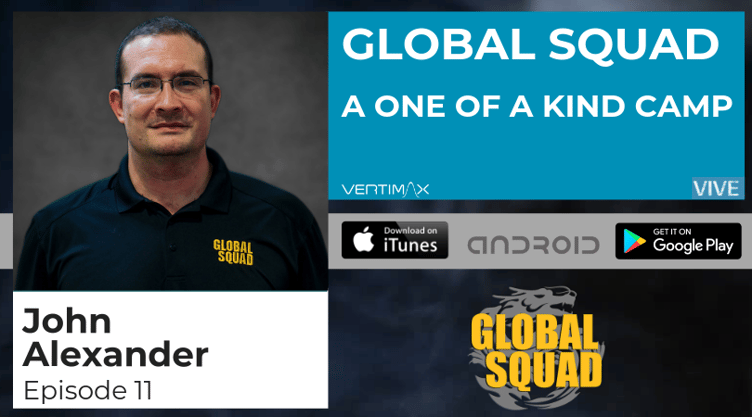 Opportunities to connect globally
John Alexander is the Head of Global Squad Basketball Camp, a camp that has been conducted every July since 2011. John started Global Squad based on his experience living overseas, and not having that experience and strength and conditioning training required to go pro. What he started in 2011 with 11 players training anywhere they could, has today grown to 55 and 75 players at two different camps.
In this episode hosted by Chris Gorres, a VertiMax Master Trainer, John shares more about what happens during a Global Squad Basketball Camp. He explains how being VertiMax Certified has changed his training for the athletes, and what the training schedule is like for the duration of the camp. John and Chris dive into the 5 Core Values of Global Squad, and explore what it is about the camp that sets it apart from others and keeps athletes and coaches wanting to come back year after year. Tune in to find out more.
Powerful Quote:
"We're trying to make this a nice reservoir where coaches can give their input but then also learn from each other." - John Alexander
Highlighted key topics discussed:
John Alexander talks about what Global Squad is and how it got started. [3:10] John shares more about how many opportunities he has created for young athletes. [4:45] The strength and conditioning side of basketball is almost non-existent overseas. [5:01] John explains how attending the VertiMax Certification changed the game for him in terms of what he wanted to bring to the camp [6:21] John talks about what the training schedule is like for one of the camp attendees. [8:20] Chris and John discuss how excited kids get to use VertiMax in their training. [10:30] John discusses What are the 5 Core Values of the Global Squad. [12:28] The 5 Core Values aren't just for the players, they're also for the coaches. [14:42] John shares an anecdote of an uncomfortable situation that occurred during the camp that turned into an incredible experience.
Resources:
VertiMax Certification Training
---