I've been seeing a lot of conversation lately about the details and responsibilities that come along with being a high school or collegiate coach. Discussions about where the profession came from, where it's going, successful practices and where there needs to be a shift in thinking.
Whether it be a sport specific teacher/coach or a strength and conditioning professional, there are many elements in the process of getting to that point as well as keys to what it takes to stay there.
I've seen discussions ranging from time involved, compensation, certifications, education needed and frequent employment transition.
I think it's beneficial for these conversations to be going on. It brings context to current professionals in the field and creates awareness for future professionals.
While the full-time strength coach as a profession is still in its infancy (especially in the high school sector), there is no shortage of eager coaches ready to step up to the plate. In my opinion, this push needs to continue to move in that direction. Organizations like NHSSCA are doing a great job to create awareness on that subject.
The roles played by these professionals are extremely important in building today's youth. Both athletically and in the process of building people of high character. They have the ability to instill values and morals through a different lens than a mom or dad may at home.
Education
Becoming a strength and conditioning professional is a more lengthy process than becoming a high school sport coach. There are no specific education requirements for high school coaches, but many possess a bachelor's degree in sports science, exercise, kinesiology, fitness, physical education or physiology. Additionally, many teachers work as high school coaches in part-time positions.
Attaining the proper education is important on your path to becoming a careered strength coach. Proper education consists of:
An undergraduate degree in an exercise science-related field. Such a degree is imperative because it forms the foundation of knowledge that construct the profession. An exercise science-related degree gives professionals the capability to practice an evidence-based approach to strength and conditioning
Academic success as an undergraduate is necessary and can be measured by your grade point average. Your GPA should be over 3.0 to be considered for acceptance into most graduate degree programs. Attaining a graduate assistant position is often necessary in order to progress to a full-time job as a collegiate strength coach.
A graduate degree in an exercise science or related field in order to progress within the profession is becoming increasingly more common. Many assistant CSCC job postings state, "Master's degree preferred." Although preferred for the assistant CSCC, it is more often than not, mandatory for a head CSCC position.
Compensation
In July of last year, the National Strength and Conditioning Association (NSCA) partnered with Employers Council to collect data regarding the annual salaries and education level of strength and conditioning professionals around the country. The results were unveiled this week. In total, 2,325 responses were collected from current Certified Strength and Conditioning Specialist (CSCS) certificants in North America. The majority of the participants work in a college or university setting (791), independent (477), and high school (323) settings.
Based on the responses, the average annual salaries break down as follows: $49,037 at the high school level; $49,286 at the college or university level; $76,772 at the professional sports level; $69,437 in the tactical setting; and $48,584 in the independent setting.
Certifications
Having relevant professional certifications is critical to your entry into the field and growth as a professional. The best way to determine which certification may be right for you, is to look at the qualifications most often required by those advertising an open position. By far and away the most common certification required is the Certified Strength and Conditioning Specialist (CSCS) through the NSCA.
Time Involvement
This will vary from high school sport coach to a strength and conditioning professional. While a high school sport coach is most likely a teacher, the time spent on X's & O's, practice and film study is all in addition to their academic curriculum.
Similarly, in the strength and conditioning community, a 9-5 doesn't exist. Many days will start at 6:00 a.m. and not end until after the 6:00 p.m. workouts.
Weekends aren't off limits either, as some players want extra agility, rehabilitation and speed work. Strength and conditioning coaches must be committed and willing to put forth long hours in pursuit of making each team better.
Frequent Transition
Google "strength and conditioning coach" and you'll see a lot of phases like "to be next", "part ways" and "takes over". In many cases, when the head coach of a program moves to a different, the staff may be making that transition as well.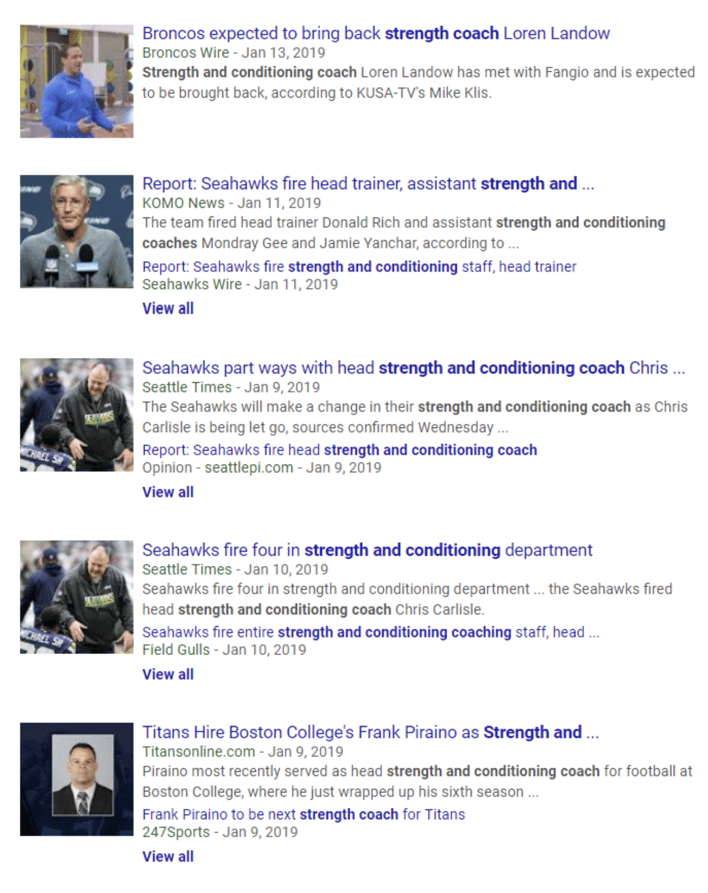 Many times transition means new opportunity and taking the next step in your career. It may be transitioning from an assistant basketball coach at one school to becoming a head coach at another.
If this is the professional path you want to take as a fitness professional, get to work developing the education, experience, interpersonal skills, and connections you need to get your foot in the door. It takes patience and persistence, but will be well worth the effort.
Many of my dearest friends are involved in athletics. They each have their own "why" they do what they do and it shows in their program.
What is your "why"?