Whether you're playing for your local rec league, high school or have made it to the big leagues, see how NBA superstars take pro basketball training to the next level with VertiMax and vertical jump training.

Increase Your Vertical Jump
When it comes to basketball, height can only get you so far—everyone is already tall on the court—you also must be able to jump higher than any other athlete out there! For your basketball training program, jump height and agility, as well as strength and explosiveness are very important components that can push your game further than ever before.

Why trust VertiMax? Well, if the pros use VertiMax—swear by VertiMax—train with VertiMax—why wouldn't you? That is why VertiMax technology is deployed in over 50% of NBA teams.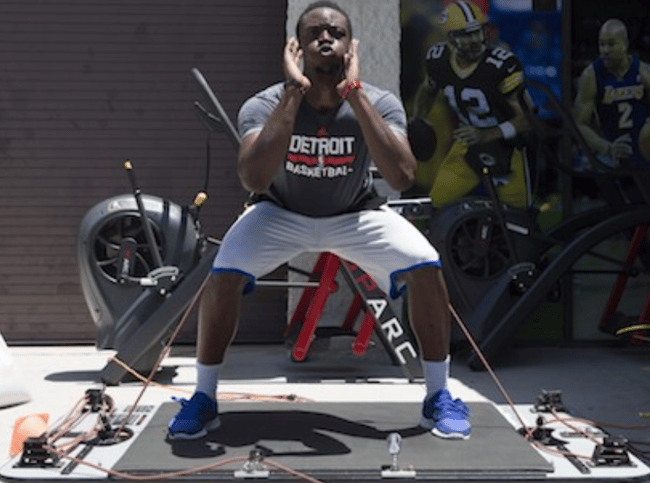 VertiMax in Pro Ball
To compete in the big leagues with big names, you need to have something up your sleeve—to help improve your jump ups. From Pro NBA stars like Paul George, Ben Simmons, Reggie Jackson, James Harden, Dwayne Wade, Draymond Green to Karl-Anthony Towns, the powerful agility performance and increase in ability are multiplied by VertiMax, which is specifically used to maximize performance.

A Closer Look at Your Game
When you get to a certain level, even improving marginally can help you reach your maximum potential. Across the court, there's only a tiny amount of difference between your opponent's speed, vertical jump. and agility. To help you decrease the margin of difference and surpass your opponent in all categories, VertiMax Platforms can help you train like a pro and increase your vertical jump..

Basketball Requires Speed, Agility, Strength, and Endurance.
Although your team's basketball training drills are helpful in improving those sorts of skills required as a team, you need something that can help you focus on yourself as an athlete. Working on your vertical jump, your response time, and the ability to change direction with power can be the training that puts you on the court—or shoots you up and into the hoops.
To dominate on the court, proper basketball training combined with advanced sports performance equipment like VertiMax can help you increase vertical jump, reduce reaction time, increase endurance, and overall—up your speed and agility.

A Closer Look at VertiMax Basketball Training
With all the dynamic movements on a basketball court, there is no time to slow down so you need to be careful. To help keep you avoiding injury, protecting your muscles and joints that are in motion while bursting into explosive speeds and changing direction on the court are essential—this can be done through rigorous but intentional training.
VertiMax works with intention. Doing full-court or half-court suicides for hours can only get you so far—it can help you with your endurance or kill time before you must go home, but it isn't too much for your agility.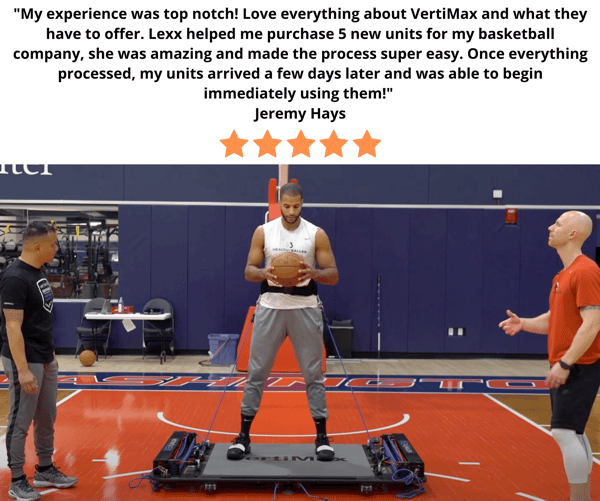 VertiMax knows what players need in their training to perform well in the games. Training needs to focus on power and agility—as well as speed and reaction times. If you focus on all these aspects every single training, you might feel like you would be on the court for hours on end, every single day. However, with VertiMax you can target on and focus on every single weakness you have in these four areas—in one dynamic platform.
VertiMax works with dynamism. To help you cut down your training time and work on one exercise that can help contribute to various aspects of your game, VertiMax has you working in multiple planes of motion. It also has you working in various speeds, too. This sort of training can help you become a better basketball player—on offense and on defense.

VertiMax Science
To help you generate the fastest speed and most effective power, you'll need to maximize the rate of your muscular force—because, on the court, what's the point of having an insane amount of muscle if you're not fast enough to use it? Check out the Science and Research of How VertiMax Works.
If you work on your speed with VertiMax, you can tap into that explosiveness of your muscles and use your strength to your benefit. Once you get all that explosive power, you'll increase your vert—which can help you dunk on your opponents, get to the ball right off the initial throw, and beat out the other team.
For a basketball player, strength isn't solely developed in the weight room, but worked on with agility and speed training to fully transfer onto the court. As an athlete, you might not even be aware that your strength isn't effective in game-like situations. However, you might be wondering why, although you're a beast in the weight room, you're still the slowest one out there on the court.
VertiMax can help you address these sorts of problems and help you translate all that brute strength you have and finesse it into real-game situations. Rated as one of the world's most effective sports performance training systems, VertiMax works on fully developing the athletic potential of a player and helping them become an impact player on the court.

Over 50 percent of the NBA use VertiMax, which doesn't count at least 70 percent of Division I colleges and thousands of high schools and families using the performance training equipment. So, if you want to be fast, agile, strong, and quick on your reaction, the VertiMax has what it takes to transform you as an athlete.

How Kenneth Faried Used VertiMax to Up his NBA Pro Game
VertiMax is more than just science, basketball training and basketball skills, professional athletes and teams back up the claims. Whether it's through the smaller league teams or the coaches who put their players through the wringer, VertiMax helps athletes gain momentum.

Here is how Kenneth Faried used VertiMax platforms to up his game to the next level. Faried states "The machine I use, sponsored by VertiMax Accelerate, helps me improve and boost explosive movements using simple processes like resistance—but in an extremely powerful way. I recognize that the training movements I use are the exact ones used in tough training and more importantly are just like the moves during actual games—which helps set myself apart from other athletes." Kenneth Faried, Power Forward for the Houston Rockets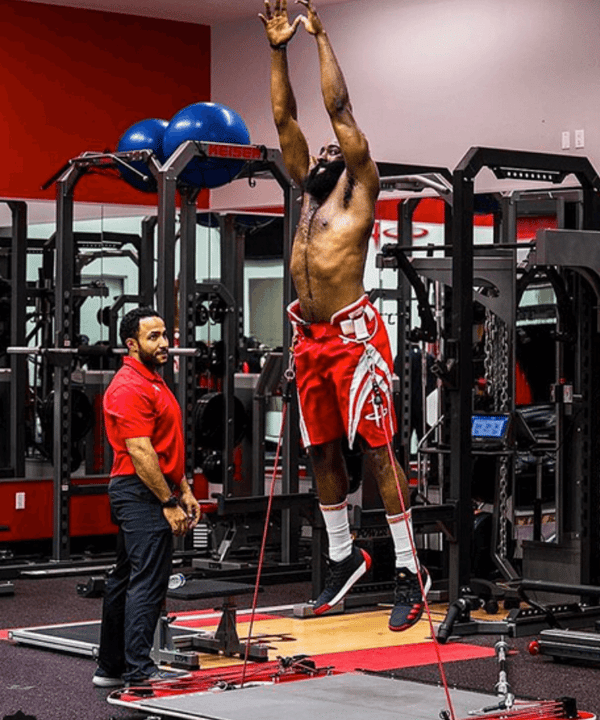 Faried says that with the simplest mechanism, he can have the most powerful outcomes. For example, a simple instrument constructed by bands can make all the difference—with a platform system that not only helps you strengthen your basketball movements but also mimics them. Instead of pushing weights around in the gym and getting bigger, VertiMax instead focuses on developing and improving explosive and strong movements that relate to the sport and the athleticism a player is trying to achieve.
VertiMax isn't just effective, it's creative. Especially after working out and training your entire life, you experience all the various training methods. Some exercises and machines are truly similar where they begin to blend together. Instead, VertiMax sets itself apart with not only its versatility, but also its simple use of bands in a whole new way. It helps you get better with creative combinations, dribble moves, and basketball-related movements—with a heavier influence and resistance to help you get more explosive.
So, what's Faried's favorite training with the VertiMax platform? His Maxed-Out Training, involving the VertiMax Trainer platform has him strapped to the appliance and then working on his rebounds. This sort of movement gives him the explosiveness and power to truly get to the rebounds quicker than other players on the court. That resistance from the bands being held while he is doing these basketball-centered movements is helpful when he goes up against elite opponents. You don't have to be at the utmost highest level to love the brand.

More Testimonials
From high school to college to all the levels in between, here are some other professional basketball testimonies that are outside the NBA that seem to swear by VertiMax:

VertiMax Sports Performance Equipment Options

Being held on its own pedestal because of its high quality and even higher reputation, VertiMax platforms and systems have found its way into Pro NBA basketball training. What are the best VertiMax platforms and systems to use for basketball training?

The VertiMax V8 and V8EX systems are the most advanced systems developed to allow athletes to engage in effective light-load, high-speed training that optimally promotes rapid force production to maximize explosive power and speed. The V8 system provides eight adjustable load resistance bands enabling athletes to load up to eight individual locations on their body simultaneously for optimal sports specific performance development. The V8 bands will extend 10 yards and the V8EX bands will extend 20 yards.

The VertiMax Raptor is portable resistance training that can allow athletes to train on-the-go. The lightweight Raptor system that utilizes the patented VertiMax Elastic Training Technology to develop athletic speed and strength. Raptor Provides a mobile solution for teams and individuals by quickly strapping to walls and fences, inside a facility or out on the field, allowing athletes to train with resistance out to distances of 45 yards.