VertiMax is hosting...And You're Invited.
For all of our friends and partners that will be experiencing the December weather elements across the country during that time of year, we welcome you with open arms to Tampa, Florida! VertiMax is excited to be hosting our first summit December 1, 2018 at our new headquarters. You can find registration and other details for #VertiMaxSummit2018 here.
The summit will consist of two great keynotes, hands on workouts, networking opportunities and a panel of professional sports performance trainers and coaches. Whether your primary interest is sports performance training, fitness training, facility solutions or creating a successful business, we will have something for you.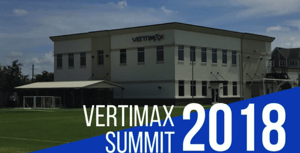 Check out some highlights about our two keynote speakers:
1) Micah Kurtz - Director of Sports Performance and Assistant Athletic Director at Windermere Preparatory School. 2016 NSCA National Coach of the year.
Micah will speak on the past, present and future of high school strength and conditioning. In his presentation Coach Kurtz will illustrate the growing field of high school strength and conditioning and identify the importance all high schools hiring a qualified strength and conditioning professional. He will describe the different paths and options to become a full-time employee at the high school level and highlight the potential obstacles and positive impact that can come from being a full time high school strength and conditioning coach.
"I'm excited to be part of this VertiMax Summit. This is a great opportunity for fitness professionals of all genres to come together and share ideas on how we can continue to strive to maximize the potential in all the individuals that we work with. As a Sports Performance Coach, I am always searching for new and innovative techniques to help my athletes and I'm sure that I will walk away from this summit with a wealth of new information to help my athletes." - Micah Kurtz
2) Rick Mayo - Rick is the founder and CEO of Alloy Personal Training Center (est. 1992), Alloy Personal Training Solutions and Alloy for Women. As the owner of Alloy Personal Training, Rick and his team conduct over 60,000 personal training sessions a year. In 2010, Rick created a consulting and licensing company as a platform for the Alloy systems, which is now in over 1,400 clubs worldwide in markets as far away as Tasmania, Poland and Dubai.
Rick will discuss how to build a profitable adult fitness program. There is no better way than to develop a thriving adult fitness business. Learn how to build a new revenue stream that will complement your sports performance training and help you earn more revenue. Rick and his team have been operating in the adult fitness space for over 25 years. Rick will explain his processes and how to marry them to an existing sports performance business.
Attendees will also get a chance to experience workouts led by our VertiMax Master Trainers.
Speed training is one of the biggest topics of conversation among coaches and trainers. Whether you're a parent training your son or daughter, high school coach or sports performance specialist, speed is crucial in athletic development. We will have a speed training session focused on creating speed, explosive power and change of direction led by Yo Murphy (ASPI), Kerry Bennett (BEAST) and Steve Leo (Parisi Speed School).
Have you heard about our RaptorFit Program? This will be a great opportunity to get a hands on 45 minute RaptorFit workout focused on calorie burning and toning for fitness clients. This session will be lead by Chris Gorres (Onyx), Vinny Scollo (Gold's Gym) and Clarence Howard (Harvest Performance).
Part of being a successful coach is keeping your athletes healthy. The time spent at practice and in the weight room is useless if your athletes are injured on the sideline. Jeremy Hills(Onnit), Will Hitzelberger (Spectrum) and Sean Pena (Arete-X) will dive into injury prevention and the corrective exercises and techniques to reduce the risk of injury.
Summit attendees will also have an opportunity to learn insights, ask questions & engage with some of the top professionals in the sports performance & fitness industry. The panel consists of experienced Performance Coaches, Trainers, and Business Owners. Between the panel of 9, they have trained professional athletes in the NFL, NBA, WNBA, MLB, MLS, US Track and Field, PGA, NHL, WNT, MNT, CFL and run their own successful businesses.
Please let me know if you'll be attending this year and we really hope to see you there.