Finding the right track and field training equipment can be challenging. You want equipment that maximizes athletic performance on the track, holds up to daily intensive use, and is a good investment for your track team's resources and time. Plus coaches want equipment for all types of track athletes including runners, jumpers and throwers.
It's a tall order on all fronts, but finding something that fits the bill is possible. If you're looking for training equipment that encourages world-class track and field performance in all events, look no further than VertiMax.
Designed to enable track and field athletes to train efficiently and effectively, VertiMax is the leading track and field training equipment to help track athletes harness their potential. And best of all? VertiMax systems apply to athletes at all levels - from world-class Olympic contenders like Justin Gatlin to high school and youth sports athletes. The equipment is also flexible and adaptable enough to be used in various settings, including gyms, fitness centers, or the home.
It can be challenging for coaches and trainers to figure out how to train for track and field effectively and safely. After all, it's risky to load athletes up with inconsistent resistance and expect them to perform, and nobody wants to injure their top performers.
With the VertiMax training system, though, you get access to the only training system that enables athletes to train under resistance while also retaining authentic running movements. Think of it this way: VertiMax equipment enhances and compounds your athletes' natural abilities - pushing them to greater levels of achievement without putting them at unnecessary risk.
Track Events Benefiting From VertiMax Training
1.
Running events include:
Sprints

(100m, 200m, 400m),
Middle distance

(800m, 1500m)
Long distance

(3000m

Steeplechase, 5000m, 10,000m)
Hurdles

(110/100m, 400m)
Relays

(4x100m, 4x400m)
2.
Jumping events include:
Long Jump
High Jump
Triple Jump
Pole Vault
3.
Throwing events include:
Discus
Shot Put
Javelin
Hammer Throw


VertiMax Training Equipment for Track & Field
VertiMax V8 Platform

V8 training system, designed to increase top end speed and acceleration. The V8 platform system is the only resisted sprint training system capable of loading the "Drive Phase" and "Recovery Phase" simultaneously for optimal high velocity power development in all muscles groups that drive the sprinter when their drive leg is planted on the ground AND when their foot breaks contact with the ground entering the "Recovery Phase" of running. The ability to attach resistance bands behind the knees or to the feet allow the V8 to uniquely develop power in the hip flexor muscles when sprinting to decrease the cycle time of the "Recovery Phase". The revolutionary design of the VertiMax V8 enables a relatively non-varying elastic load on the athlete's hands and legs in both the "Drive" and "Recovery" Phases for over 30 feet. For the first time, sprinters can conduct full speed starts and accelerate loading all major muscle groups involved in running without resistance radically increasing in mid stride.

VertiMax Raptor

The VertiMax Raptor

is a portable resistance training that can allow track and field athletes to train on-the-go. The lightweight Raptor system that utilizes the patented VertiMax Elastic Training Technology to develop athletic speed and strength. Raptor provides a mobile solution for teams and individuals by quickly strapping to mobile racks, walls and fences, inside a facility or out on the track, allowing athletes to train with resistance out to distances of 45 yards.



5 VertiMax Track and Field Exercises to Get Race Day Results
VertiMax Training Systems are among the only pieces of equipment that allow athletes to take on resistance while retaining their authentic movement. In fact, world-renowned champions such as Justin Gatlin attest to the fact that strength training and VertiMax track and field exercises are a key to success on the track just as it is in any other sport. Check out the 5 Track and Field Exercises to Get Race Ready. Why? Because strength training fulfills a dual role of improving performance while staving off injury. It's been scientifically proven to improve everything from bone health to the resiliency of muscles and other soft tissue.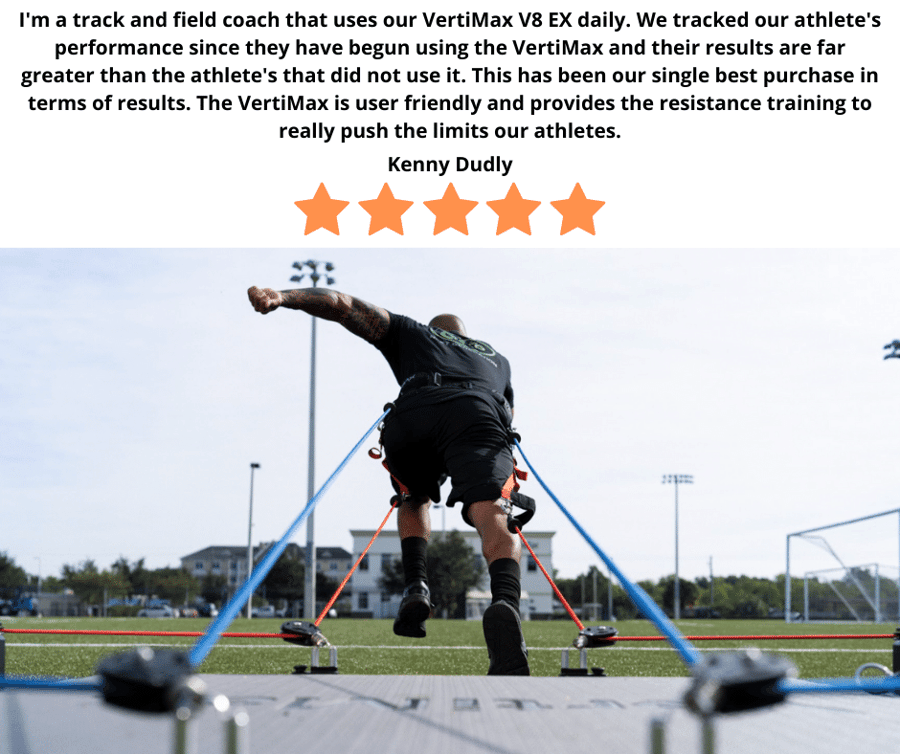 Dynamic Warm-Ups with VertiMax Training Equipment
Check out the 5 Dynamic Training Drills on the video with Sean Pena, the physio and biomechanics expert for the top track athletes in the world, as he demonstrates five of his acceleration and explosive power drills he utilizes on his World Class sprinters to optimally develop speed and acceleration performance. It is well known in the sports world that dynamic warm-ups are the preferred method for athletes to get ready for training. Dynamic stretching is preferred because it activates muscles and improves range of motion. Now, by attaching a VertiMax platform or Raptor, individuals can stimulate and isolate deep intrinsic muscles as well as train firing patterns under slight load in ballistic functional movements.
---
Whether you're interested in improving power, endurance, or quickness, VertiMax equipment is stable, reliable, long-lasting, and applicable to any event. What are you waiting for? Elevate the competitive ability of your athletes, starting right now. Learn more about VertiMax systems.