Listen, I understand there's not one single "secret sauce" in the perfect gym. But, there are certainly some common denominators of the best ones out there.
During my 4+ years working in the "VertiMax" world, I've had the opportunity to experience high school and college athletic programs, sports performance centers, athletic clubs etc. You may have been places that when you walk through the front door, you literally FEEL why athletes and weekend warriors want to be there. Whether it's the jersey filled walls or the fact that not one single weight plate is out of place (that would be me).
What's the driving force behind the ones you want to be part of? Credibility, training quality, coaching experience, atmosphere and culture. There are many layers to what makes a successful operation.
Recently I was in Chicago for a Perform Better Summit. Prior to the event I had the opportunity to visit with some friends in the area. I spent time with Steve Breitenstein at TC Boost. While there, he had athletes coming in to train during their time home from college. It was summer break for them. They could have been at the beach or shooting hoops with their friends in the driveway. Instead, they were at the facility, music bumping and working on their mechanics. They weren't forced to be there. It was east to see they wanted to be part of the TC Boost community and felt at home.
Quick story on the same visit...Steve pointed out one of his guys working out. He was also home for summer break. Monday through Friday he was working a construction job to put some spending money in his pocket. He gets a 2 hour lunch break every day. He takes that time to hit the facility to train for an hour. Then, back in the sun. That's hustle. That's grind. If you create an atmosphere that helps create that drive, you're doing something right. (Steve also has an awesome podcast interviewing guests in the industry - check it out please)
In January, I was in Dallas, Texas for NHSSCA. I remembered a conversation with a friend who said if I was ever in Dallas I needed to check out "Doug's Gym." Ever heard of it? One day after the event, I made the time to check it out. If you're expecting me to paint a picture of a state of the art facility outfitted with VertiMax, Sorinex and Keiser equipment, you're 100% wrong. Put it this way, Doug has had the second-floor weight room for long enough that he saw Jack Ruby shoot Lee Harvey Oswald at the old Dallas Police headquarter.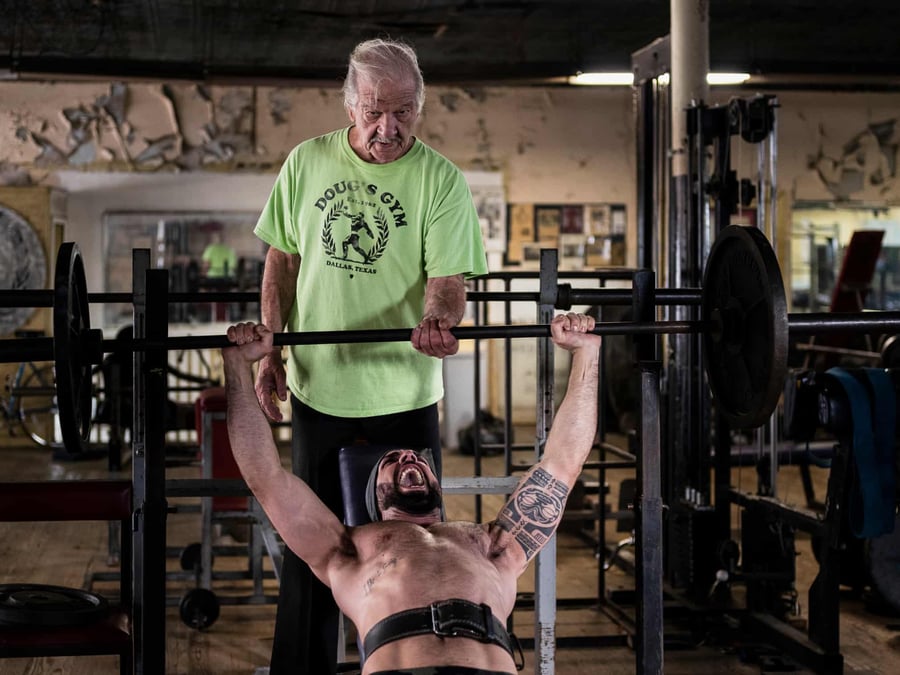 I was in the gym as Doug was smoking a cigar at his desk. With that being said, I feel obligated to tell you that he just got done doing a few sets of lat pull downs.
Since 1962, Doug found a way to connect with his guests in such a loving and thoughtful way that people wanted to train there. I know I did. When I called the gym to see what time the gym opened, a voice on the other end of the line answered "Doug's Gym...Doug speaking." I mean come on. You don't get that anymore!
If you've been fortunate enough to step foot in some of these programs or facilities, you know the message I'm trying to convey. Its how the sauce is made, not the final product.
What's your "2 cents" on what makes up the DNA of a great program? What are some places you think are accomplishing this?